The boss of the world's largest bond fund has voiced concerns about investing in China, branding it the "wild card" of emerging markets and flagging up the region's lack of transparency.
In an interview with Bloomberg TV, Bill Gross, the co- founder and managing director of Pimco said that uncertainty about China's growth this year is adding to investors' unease and demand for the safest of assets
"I call China the mystery meat of emerging-market countries," said Gross in the TV interview.
"Nobody knows what's there and there's a little bit of bologna, so we're just going to have to wonder going forward through this year as to the potential problems in China and other emerging markets.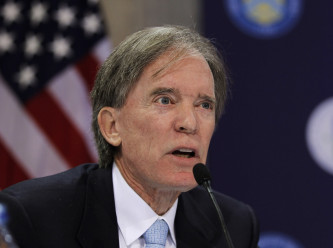 "The last wild card, Erik, in terms of emerging-market space, obviously is China. Is it 6%? Is it 7%? Is it 5%?"
China is currently the world's fastest-growing major economy with annual gross domestic product growth rates averaging 10% for the last 30 years.
Despite China's stellar economic growth, the global financial crisis did impact the country.
Its economic growth has slowed down in 11 of 14 previous quarters.
For the full year 2013, the world's second-largest economy grew 7.7%, unchanged from 2012 and the slowest pace of growth since 1999.
Pimco manages $1.97tn (€1.45tn, £1.2tn) in assets. It was co-founded by Bill Gross, who at 69-years-old is still a managing director and co-chief investment officer at Pimco.
Emerging Markets Rattle
On 4 February, global markets tumbled to a near four-month low on signs the world's largest economy was stumbling, which further rattled investor sentiment following the sharp sell-off in emerging markets.
Investors switched to traditional safe-haven assets such German and US government bonds and the Japanese yen, after the Institute for Supply Management (ISM) said on 3 February its index of US factory activity dropped to 51.3 in January, its lowest level since May 2013, from 56.5 in December 2013.
German government bonds, considered to be among Europe's most secure investments, saw prices hit a six-month high.
"Emerging markets are getting cheaper," said Gross.
"The problem is emerging markets have problems. Take examples such as Brazil and Turkey. These are countries with widening current-account deficits. These are countries which, by necessity in order to stabilize their currency, have to raise interest rates and put their economies at risk in terms of slower growth."
A report this week revealed that European banks have loaned in excess of $3tn to emerging markets, more than four times US lenders, and several banks are not immune to increases in financial market turbulence in countries such as Turkey, Brazil, India and South Africa.