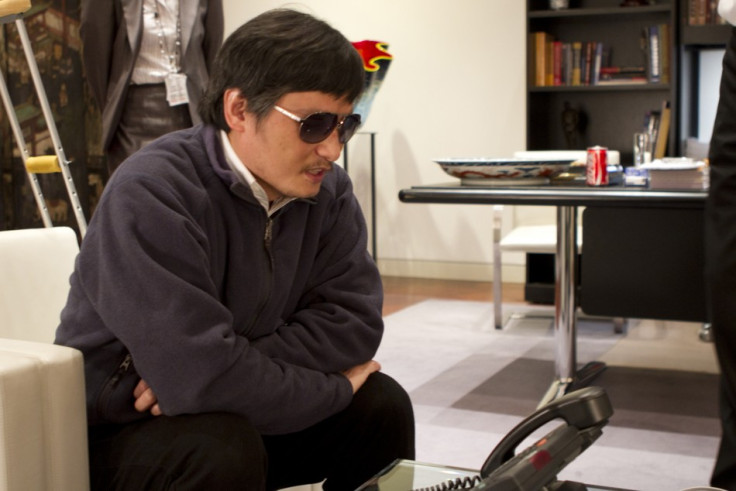 The blind Chinese activist Chen Guangcheng who has been at the centre of a diplomatic storm between China and the US has left the country.
On Saturday afternoon (Chinese time), Chen hurriedly boarded a flight for Newark from Beijing, reported the Associated Press.
Chen was accompanied by his wife and their two children. He has an invitation to study law at New York University.
One of his close friends Jiang Tianyong told Reuters that Chen received his passport just before boarding the flight.
The lawyer friend was reported by Reuters as saying: "I just spoke to him and he said he was about to board the flight."
Earlier in the day, Chen telephoned a few news agencies and informed them that he was leaving the hospital for the airport and would be flying to the US.
"Thousands of thoughts are surging to my mind. I am requesting a leave of absence, and I hope that they will understand," AP quoted Chen as telling his supporters and well-wishers.
Chen's departure for the US will bring to an end the month-long diplomatic tussle between the countries.
"I think this is a great progress. We are happy about it. It's a victory for freedom fighters," said one of the activist's supporters Bob Fu, reported AP.
It was not clear in the morning whether Chen would receive his passport and visa on time since none of the government officials or the US embassy officials confirmed his travel.
"Yes, I might be heading for a flight to the United States, but I haven't been told, and I haven't received our passports, so I'm not sure yet. We're waiting to find out what's happening," Chen was quoted by Reuters on Saturday morning.
The activist fled house arrest and took shelter in the US embassy for a week before he was admitted to a hospital sparking a serious diplomatic crisis during the US Secretary of State Hillary Clinton's recent visit to China.