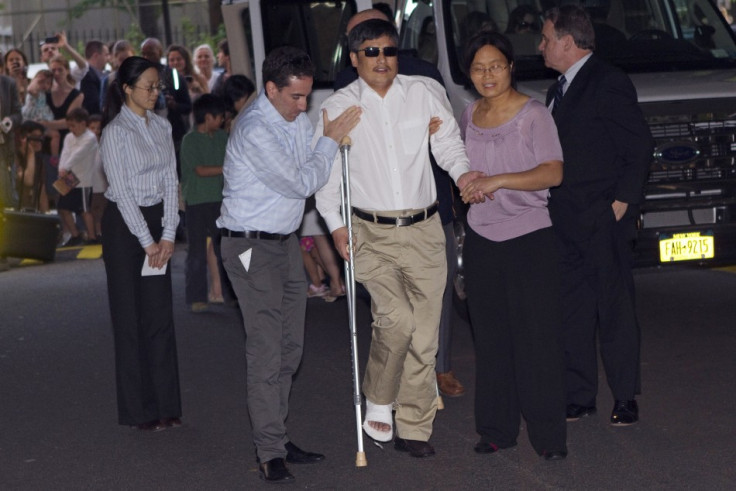 The blind Chinese activist Cheng Guangcheng arrived in the US on Saturday after a long struggle in his home country.
Chen said he had come to a place where he can get much-needed rest and recuperation.
"For the past seven years, I have never had a day's rest. So I have come here for a bit of recuperation for body and spirit. After much turbulence I have come out of Shandong [Chen's hometown]," the Associated Press quoted Chen as saying at Newark International Airport in New York.
Chen travelled with his wife and two children by United Airlines Flight 88 and some journalists reportedly travelled with him.
But journalists were not allowed to talk to him during the 13-hour flight from the Beijing airport.
Chen thanked both US and Chinese authorities for helping him out.
"I am very grateful for the assistance of the American embassy and the promise of the Chinese government for protection of my rights as a citizen over the long term. I am very gratified to see the Chinese government has been dealing with the situation with restraint and calm," Chen said after reaching New York University where he will be taking up law classes, according to CNN.
Chen's arrival at New York University is expected to ease the diplomatic tussle between the US and China.
US authorities and university officials expressed their happiness over Chen's arrival.
Chen said his work in his home country was far from over. "I believe that no matter how difficult the environment nothing is impossible as long as you put your heart in it... I hope everybody works with me to promote justice and fairness in China. Equality and justice has no boundaries," said Chen, reported Reuters.
Chen was taken to Beijing airport all of a sudden from hospital where he was staying for nearly a month on Saturday morning. He neither had a visa nor his passport until he reached the airport.
The activist fled house arrest and took shelter in the US embassy for a week before he was admitted to a hospital sparking a serious diplomatic crisis during US Secretary of State Hillary Clinton's recent visit to China.