Chinese government's startup investment fund is bigger than the GDP of Denmark
The Chinese government's startup investment fund stands at $337bn (£236bn, €299bn)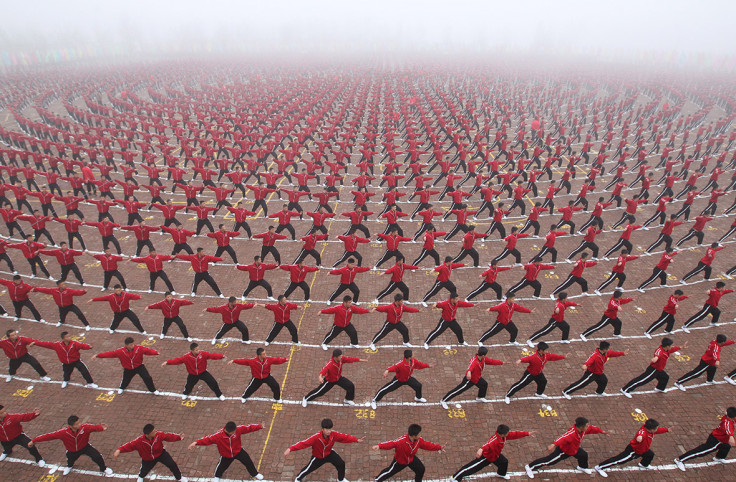 The Chinese government's startup investment fund stands at $337bn (£236bn, €299bn) - larger than the GDP of Denmark. Stick that in your accelerator programme and smoke it.
During a conversation at Money 2020 Europe in Copenhagen, Neal Cross, managing director and chief innovation officer of Singapore's DBS Bank was emphatic about exactly where the epicenter of fintech was happening. He said a lot of people have yet to grasp the awesome scale of innovation taking place in China right now.
Cross told IBTimes: "We have seen it today at the conference; everyone is amazed at this company called Alipay. Like, where have you been? This has been going on a long time. The epicentre of fintech disruption is China – by some way.
"Europe and London and New York and Silicon Valley can talk all they want about how they are fintech hubs of the world; they are not even close to China. Its government start-up investment fund is $337bn – that's bigger than the GDP of Denmark or Singapore. That's the size of the warchest for investing in startups. We predict about $100bn will be for fintech."
If any further context were required, that fintech spend represents about four times the rest of the world (the worldwide fintech VC investment is $25bn). The whole fintech ecosystem is moving as banks, traditional software providers and startups await the inevitable march of Facebook, Google, Amazon, Facebook and Apple. But this is nothing compared to China.
WeChat and Alipay
The progression into banking for SMEs is a natural one for a company like Alibaba. It has hundreds of thousands of businesses on its platform using it for sales and distribution. So, when you want a loan, it makes sense to go to the person that is powering your business, noted Cross. "There's also the insight they have about your business, your stock levels and cashflow; they already have that. And so they are building huge banking ecosystems around them."
He said fintech players would do well to study the WeChat model in China where banks are actually building inside the app, so you can open a bank account in WeChat. Cross pointed out that the chief innovation officer of WeChat bank spoke at G20 (the first innovation officer to do so). In just over a year they got 30 million customers and in two years they will have 300 million banking customers. If you added together every European and US challenger bank, it wouldn't even come close.
Cross said: "They have got a huge domestic market. So very similar to the US in many ways; and a lot of them just sit in their domestic market and get really big. But we heard from Alipay that they are moving into merchant payments and point of sale systems for international. They are focusing on the corridors out of China; so where the Chinese tourists go, what are they doing, how can we be part of their life.
"You hear executives talking about being customer-centric, but all they are doing is kind of refining the experience. That's not customer-centric, that's how someone uses an app, that's pretty basic UX stuff.
Ping An Bank
"What the Chinese banks are doing – and we are certainly also doing this at DBS – is thinking of the entire journey. This is why Ping An Bank is the world's most innovative bank by a long way. They have got a whole value chain for travel, for example. Rather than create an app to enable you to do payments when you are travelling, they have built huge ecosystems which they either own or have partnered into. They book hotels for you, taxis, stuff at airports – the whole value chain.
"They've got one for medical, one for commerce. They have even got one around moving house, so you can buy your furniture, hire house movers, property websites – it's the whole thing.
"That's real customer-centricity. Because the customer is trying to do a job: I want to go on holiday; I'm ill, I need something; I'm moving house. They have really got that stuff covered. The Chinese have created these huge ecommerce platforms and they are just banking everyone under it. And the third-largest ecommerce platform in China is done by a bank, ICBC. You just don't see that in the West."
Singapore
Cross said DBS is in a unique position in terms of innovation because nowhere else has he seen the barriers between the corporate world and government lowered to the same extent as Singapore. This means DBS can run innovation testing with regulators on board, for instance. Being the national bank, DBS also has unique links to the country's academic world; the government's education ministry has even consulted the banks as part of its drive to reinvent Singapore's education system.
In terms of its practical approach, Cross said DBS split its innovation team in half. "One side looks to reinvent the world; it does all the engagements with universities, fintechs, government agencies and corporate partners. Then the other half of the team reinvents the bank itself. They run programmes to train staff on design thinking. The bank last year ran 1000 experiments; in context, Google only did 3,000."
BBVA, Barclays, Lloyds
Asked which European banks were in his opinion innovative Cross said probably the winners would be BBVA. "They would lose some marks for internal culture change, but they win on product delivery; they've got great products."
And in the UK? "Barclays talk a good game. They have a lot of PR and some product – not particularly stunning. They are doing a lot on blockchain, probably a bit too much. Lloyds are good. They have a deep focus on internal culture change."
© Copyright IBTimes 2023. All rights reserved.