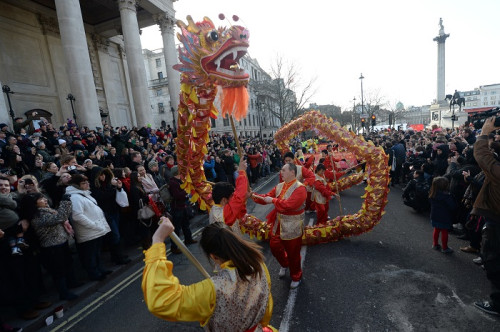 WeChat, a messaging service developed by Tencent with over 600 million users in Asia, has launched a virtual money transfer system that has become a smashing hit this new year season in China.
The app has come in handy for Chinese who carry red cash envelopes to exchange them with friends and relatives as part of the spring festival.
The app allows users to transfer and swap money in the form of traditional "red envelopes" online. Users could either transfer the money directly or put it up in personal chat groups for members to swap the money randomly.
As much as 18m yuan (£1.8m) was transferred in just 24 hours through the service. The new envelope-transferring feature has also led to a remarkable expansion in the usage of the app, according to the Irish Times.
The amount of money in the envelopes had a ceiling of 200 yuan (£20), and proved a big hit with 18-to-30-year- olds who have internet-connected smartphones.
Over 20 million red envelopes were exchanged by about five million people on the first two days of the festival, the China Daily reports.
However, the climactic moment in the gift-giving frenzy came about when about 585,000 people exchanged 121,000 red envelopes in just five minutes, according to Tencent Holdings.
Yang Yi, a 25-year-old working in Beijing, revelled in the game to the core.
"It was like a game. It brought a fantastic atmosphere and plenty of talking points to the chat group," she told the China Daily.
Yang took part in a number of envelope-grabbing competitions in her chat groups and managed to win 122 of them.
She got 1,200 yuan (£126) from an online gift game, but distributed it all back through the red envelopes.
"The amount of money does not matter. The excitement lies in the moment you can get the envelope," Yang said.
Yao Xuan, manager of a company in Jiangsu province, said he would prefer the online payment to the traditional way of handing out red envelopes.
"Compared with sending text messages or online posts, this is a better way of wishing good fortune for the coming year," he said.
A record 800m yuan (£81m) was transferred to the application's wealth-management platform on the day it was launched.
Tencent, who is now targeting the US market, has allied himself with Google to promote WeChat in the country.
In one of the bold promotional campaigns by the company, Tencent lures customers in US, where the service has been little-known until now.
A report on the company's news portal says that users who add five contacts on WeChat will be offered gift cards worth $25 to be redeemed at a range of restaurants around the country.
The web app is available on smartphone platforms including Android, iPhone, BlackBerry, Windows Phone and Symbian, and supports over 15 major world languages.