Chris Foy Will Not Referee Chelsea Again This Season But Jose Mourinho Faces FA Wrath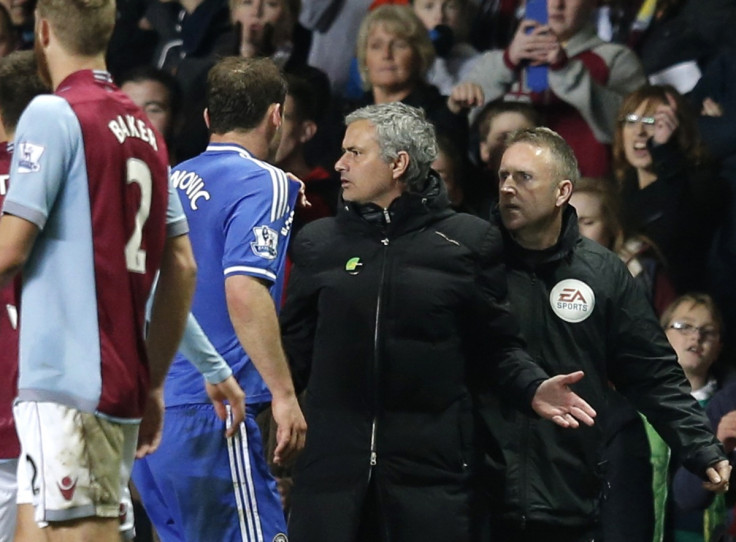 Chelsea manager Jose Mourinho's demand that Chris Foy be prevented from refereeing his side's matches is expected to be granted by the Professional Game Match Officials Board [PGMO] for the remainder of this season but the Portuguese boss faces a raft of charges from The Football Association in the wake of the defeat to Aston Villa after continuing his criticism of the official.
Brazilian duo Willian and Ramires both saw red as Fabian Delph's late goal saw the Blues' advantage at the Premier League summit cut to six points, leaving Mourinho – who was sent from the dugout in stoppage time – to request Foy be prohibited from refereeing future Chelsea matches. Mourinho said on Saturday: "Maybe it's helpful that the committee doesn't send him (Foy) to our matches."
While the PGMO retain the right to appoint referees at their digression, protocol states that officials has barred from taking charge of clubs whom they have just refereed for 30 days. Though Foy would be available to officiate Chelsea matches in the final four weeks of the season IBTimes UK understands the 51 year old is unlikely to be thrust into such a comfortable position.
Southampton submitted an official complaint against Mark Clattenburg after allegations of insulting Adam Lallana against Everton in December but both the PGMO and The FA dismissed the objection with the 38 year old going on to referee Saints' defeat to West Ham United in February.
Though Mourinho appears to have been granted Foy's removal from future Chelsea games until the end of the current campaign, the former Real Madrid manager faces a potential fine and a touchline ban for his actions at Villa Park while futher media comments in the build-up to the Champions League last 16 second leg against Galatasaray at Stamford Bridge could land him in hot water.
After Ramires was dismissed in stoppage time for a two-footed lunge on Villa midfield Karim El Ahmadi Mourinho went to confront Foy on the pitch, thereby breaking FA rule E3 which states that managers could face an £8,000-£12,000 fine.
Should Foy's post-match report include evidence of Mourinho using foul or abusive language towards the official the Chelsea manager could face a touchline ban and an increased financial penalty. Nottingham Forest manager Billy Davies was given a five-match touchline ban for a similar offence earlier this month.
The FA are also expected to look at comments made by Mourinho on Monday in which he defended Ramires' sending off as a reaction to Foy's performance and hinted that the referee should be punished by the game's governing body. Foy will this weekend referee Hull City's home match against West Bromwich Albion at the KC Stadium.
"There are persons in the game who are responsible to help the players control the emotions and, sometimes, these people are the people who push the players to lose their control," Mourinho said.
"And I can't separate Ramires's tackle, which is a red card ... I cannot separate that from the accumulation of frustration during the match. I feel that what happened in minute 92 was a consequence of the other 92 minutes we played before that. But that's just my opinion.
"People who play something – they don't need to be professional, just competing for something – they'd know exactly what I'm speaking about. So for me, is it a red card? Yes, it is a red card.
"Was it in the first minute? Was it minute 20 and completely out of context, where you don't know why the player did this? When you see the moment and what happened before that, you understand clearly. Or you don't understand, but I do. I understand clearly that a player can make a mistake. He made a mistake. He's going to pay for the mistake.
"I am happy because he is paying for the mistakes he makes, that's simple. There are people who make mistakes who don't pay for it. People turn their eyes to another side, they forget what happened, they do not want to see images. You know?
"It happens with many people in football. Ramires this season, he made one dive for a penalty [at Derby in the third round of the FA Cup] and got a yellow card. He made a bad tackle in the last game and got a red card. So when he makes mistakes, bump, he pays for the mistakes."
If The FA are to take further action against Mourinho they must first await Foy's post-match report but must bring charges against the ex-FC Porto and Inter Milan boss with three working days regarding his respective media comments.
© Copyright IBTimes 2023. All rights reserved.