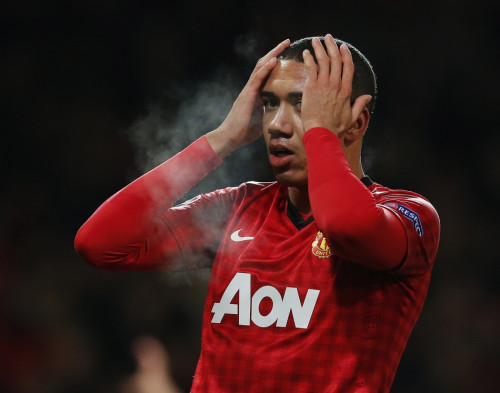 Manchester United defender Chris Smalling has insisted the onus is on the players to close the gap on Liverpool as pressure mounts on manager David Moyes.
United suffered their eighth defeat of the season as they suffered a 2-1 loss to Stoke City at the Britannia Stadium and are now 15 points behind Premier League leaders Arsenal.
Despite dropping points in a draw with West Brom, Liverpool still hold a seven point advantage over United in fourth place and Smalling believes winning every game must be the players' target if they want to claw their way back into Champions League contention.
"We've got to go into it as if we need to win every game," said Smalling. "We're the ones who have to catch Liverpool.
"So we've got to win the points and put the pressure on them. We've not done ourselves any favours with losses like this.
"It seems as if we are taking one step forward and then one back. But we need to stick together and really get into the next game because time is running out to pick up these points.
"It is only us players who can really get us out of this muddle and so we really need to stick together.
"We don't really talk about the Champions League, but I think we all know that's the minimum we need to aim for."
United's loss to Stoke was also marred by the loss of their two first choice centre halves in the first half. Jonny Evans was taken off after just five minutes and Phil Jones followed after a clash of heads with Jon Walters.
To compound a miserable first half for United, Michael Carrick, who slotted in at centre half, saw his deflection divert Charlie Adam's free kick past David de Gea.
After another frustrating weekend, Smalling is hoping United's luck will soon take a turn for the better.
"You get injuries, you get certain decisions against you, you get deflections. I guess it's how the game goes.
"There have been a few deflected goals this year which have really not been down to us. Hopefully it will turn in time because we are due some good fortune.
"It was massively frustrating. We played quite well for large parts of the game. On another day the chances we had might have gone in.
"We pressed for the whole second half, we had a lot of the ball but it wasn't going for us."