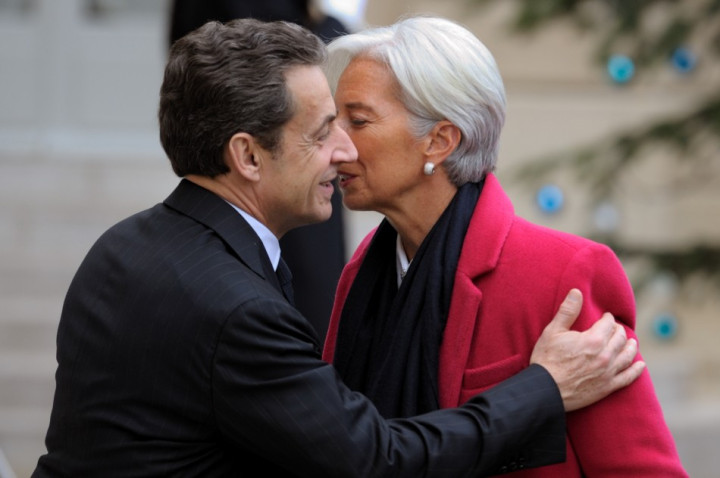 IMF chief Christine Lagarde urged former French president Nicolas Sarkozy to "use her" for his economic and political policies, in a hand-written letter found by officers searching her Paris home during the Bernard Tapie investigation.
One of the most powerful women in the world, Lagarde, 57, was finance minister in the conservative government led by Sarkozy's former political adviser François Fillon.
The letter, which is not dated, constitutes a sort of "oath of allegiance" to Sarkozy:
"I'm on your side to serve you and serve your projects for France," it reads. "I've done all my best and I could have failed sometimes. I beg your pardon."
Lagarde, who was appointed managing director of the Washington-based IMF in 2011 after her predecessor and compatriot Dominique Strauss-Kahn was forced to step down due to a rape scandal in New York, also claimed that she does not have "personal political ambitions" and remarked she does not want to become "an ambitious servant", referring to some members of Sarkozy's entourage.
"Use me during the time that suits you best and fits your action and your cast," Lagarde wrote.
"If you decide to use me, I need you as guide and supporter: without guide, I might be ineffective, without support I might be implausible."
The Tapie case revolves around the allegedly mishandled sale of Adidas by Credit Lyonnais to businessman Robert Louis-Dreyfus on behalf of French tycoon Tapie, who was a majority stakeholder of the sportswear brand in 1993.
Tapie claimed he was defrauded by the bank's conduct and started a long legal battle which ended up being referred by Lagarde to an arbitration panel in 2007.
Lagarde also approved the panel's decision to award damages of €400m (£340m).
Critics say that because public money was involved, the case should not have been settled by private arbitration.
Investigators believed that the settlement was helped by Tapie's support of Sarkozy in the 2007 election.