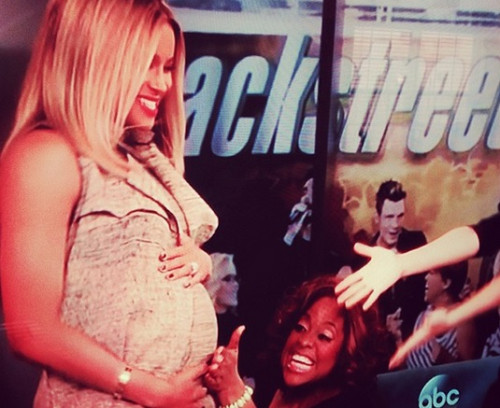 It was the worst kept celebrity secret of 2014, so it was just a matter of time before it finally came out.
Popstar Ciara has confirmed that she is expecting her first child with her rapper and producer fiancé Future.
After weeks of speculation, the 28-year-old singer unveiled her growing baby bump during a recent appearance on The View chat show.
Although the star was there to discuss her newest endorsement deal with Degree and upcoming Grammy after-party performance, she was caught off guard when Barbara Walters broached the subject of her rumoured pregnancy.
When she asked the bride-to-be if she wanted to confirm or deny the reports, Ciara replied: "Of course I would love to", before standing up and opening her waistcoat to let her belly do the talking.
The glowing mother-to-be then let out a slow "Yeeeeessss" before adding: "I'm so excited for this year."
Ciara, 28, and Future, 30, got engaged in October, after he popped the question during her birthday weekend with a 15-carat custom designed ring.
"Today Has 2 Be Like One Of The Sweetest Days Of My Life! #TheBestBirthdayEver. If I'm Dreaming I Don't Want to Wake up! (sic)" she tweeted at the time.
The Body Party hitmaker then sent the pregnancy rumourmill into overdrive after she was spotted wearing a number of baggy tops.
Just days ago a fan told Necole Bitchie: "So I just said 'Hi' to Ciara at JFK airport and she's definitely pregnant. No two ways about it. She looks gorgeous and exhausted up close!"
Future - real name Nayvadius Cash - has three children from three previous relationships; an 11-year-old son, a four-year-old daughter, and another son, who is 13 months old.