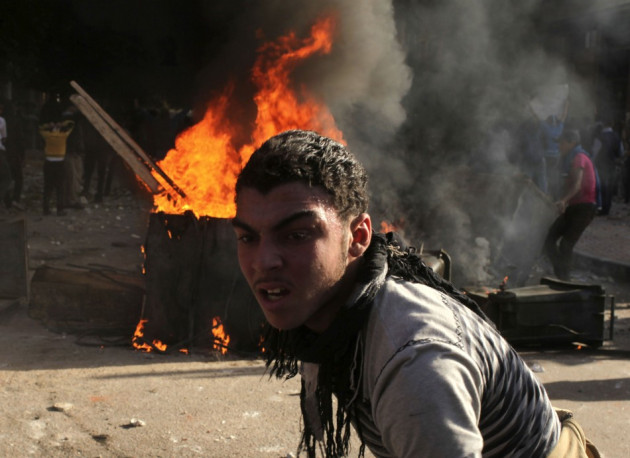 Violence erupted in the Egyptian cities of Alexandria and Cairo between police and youths protesting against the Islamist president Mohammed Mursi on the second anniversary of the revolution that toppled dictator Hosni Muabarak.
In the northern city of Ismailia, protesters set fire to the Muslim Brotherhood's party headquarters. Demonstrators who slept in Cairo's flashpoint Tahrir Square, the cradle of the revolution, have already clashed with police and bombarded them with petrol bombs and firecrackers.
Police responded with teargas and threw back an incendiary which set ablaze two tents that had been erected in the square by youths.
The secular-leaning opposition accuse Mursi of betraying the revolution and granting sweeping powers for himself.
"Our revolution is continuing. We reject the domination of any party over this state. We say no to the Brotherhood state," Hamdeen Sabahy, a popular leftist leader, told Reuters TV.
Many casualties have been reported by the health ministry since Tahrir Square erupted on Thursday.
The opposition is using the same slogan that helped to oust Mubarak in 2011: "Bread, freedom, social justice."
Hanna Abu el-Ghar told the BBC: "We are protesting against the fact that after two years of the revolution, where we asked for bread, freedom and social justice, none of our dreams have come true."
The former dictator, 84, remains in detention at a military hospital after an appeals court overturned a life sentence against him over the deaths of protesters and ordered a retrial.
The Muslim Brotherhood has not called for its own rally. It marked the anniversary by launching a social initiative called: "Together we will build Egypt."
Mursi had appealed to all Egyptians to spend the anniversary in a "peaceful and civilised way". He said that his priority was to boost the economy.
Leading opposition figure Mohamed ElBaradei, the former head of the International Atomic Energy Agency, called on Egyptians "to take part and go out to every place in Egypt to show that the revolution must be completed".