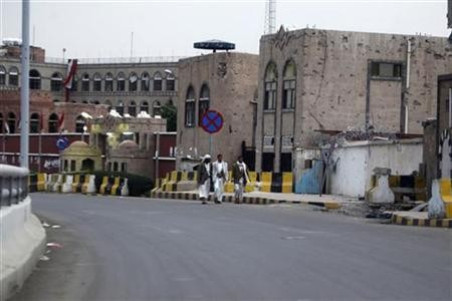 A firefight erupted near Yemen's interior ministry after security forces were attacked by gunmen wearing police uniforms in the capital of Sana'a.
At least two policemen were killed and 10 injured in the clashes, security officials have said.
The assailants attacked in a row over their status as unofficial police officers, AFP reports. Police chief Mohammed Abdullah al-Qawsi had promised them they would be officially put on the police payroll.
But he was fired in May and the promise was not kept.
Angry officers laid siege to the interior ministry and repeated demands that included being officially employed as police officers and receiving financial compensation.
They set a deadline for their demands to be met.
Yemen's 10-month uprising against President Ali Abdullah Saleh's 33-year grip on power ended after the president signed a Gulf state-brokered agreement to transfer power to his deputy.
The deal emphasised the need for the restructuring of Yemen's military and securityapparatus, which were predominantly controlled by Saleh's close affiliates.