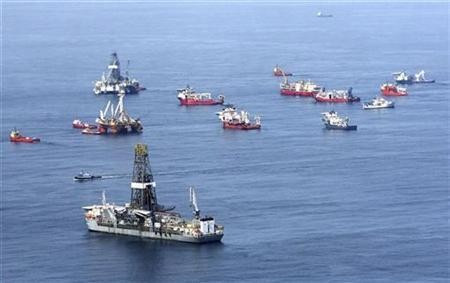 Climate activists protested outside the BP Portrait Award ceremony last night as the oil giant was targeted for sponsoring the event.
Demonstrators said BP's sponsorship of the award diverted attention away from its poor environmental record.
The campaign group Facing the Gulf submitted 14 portraits of people from the Gulf of Mexico to the contest -- none were chosen -- in an effort to get the National Portrait Gallery to reconsider its financial links with BP, according to the Londonist.
The protestors showcased a collection of these portraits outside the gallery that showed the impact of last year's Deepwater Horizon oil spill.
Despite none of them being selected by the judges, the organiser Nancy Boulicault hoped they would force the gallery to look again at its link with BP.
She told The Guardian, "We think the National Portrait Gallery needs to start asking themselves some questions about this relationship, in the same way as the people of the Gulf have had to ask themselves very serious questions."
"They understand the complications that come when oil becomes part of your life, because it's part of their lives.
"But what became quite important to everyone is the fact that we need another vision without oil in our lives.
"Our cultural institutions are about trying to create another vision, but when they are in bed with oil it's very hard for us to find that vision through our arts."
A spokesman for the gallery said, "The National Portrait Gallery, while principally supported by grant-in-aid from government, is pleased to work with a wide range of companies in support of its exhibitions and displays.
"The sponsorship of the annual Portrait Award by BP is now in its twenty-second year and their support directly encourages the work of artists and helps gain wider recognition for them."