Clinton vs Trump: Where, when and how to watch the first presidential debate
The two presidential nominees will face off on 26 September in Hempstead, New York.
Following months of campaigning, Hillary Clinton and Donald Trump will finally face each other one-on-one in the first presidential debate of the 2016 election cycle. The debate comes as Trump appears to be making headway in general election polls.
A series of polls show Clinton slowly losing her national advantage against her Republican rival. The latest ABC News/Washington Post poll puts the Democratic nominee a mere two points ahead of Trump, 46% to 44%.
Libertarian nominee Gary Johnson and Green Party nominee Jill Stein follow with 5% and 1% respectively. Neither third party candidate met the requirements to appear on Monday's (26 September) debate.
The debate is expected to draw millions of viewers as the duelling presidential nominees spar for 90 minutes.
Where and When
The first presidential debate will begin live broadcast at 9pm EST/2am BST from Hofstra University in Hempstead, New York. The debate, which will be divided into six 15-minute segments, will hosted by NBC Nightly News anchor Lester Holt, according to Variety. Each segment will focus on a major topic chosen by Holt. Each candidate will have two minutes to respond to questions and then additional time to respond to the other candidate's response.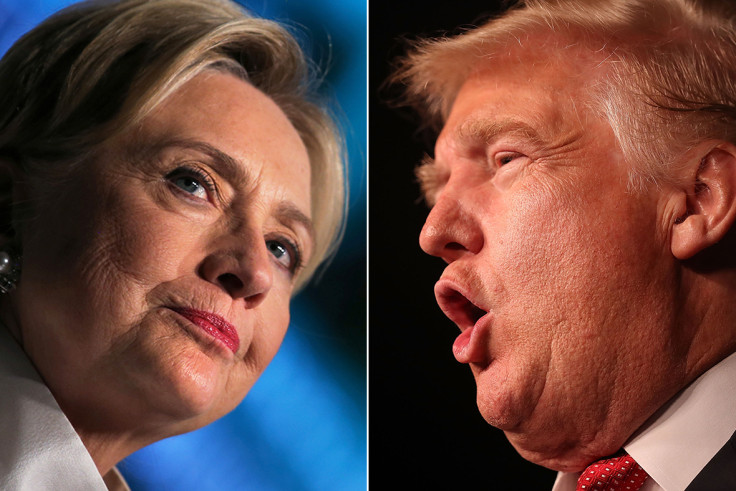 How to Watch
Unlike the primary debates, the presidential debate will be broadcast across several networks. Viewers can tune in to commercial-free broadcasts on ABC, CBS, Fox News, NBC, PBS, MSNBC, Fox, CNN, C-SPAN or Univision.
The debate will also be streamed online. Facebook will stream ABC News' live coverage, while YouTube will have the live streams of PBS, Telemundo and the Washington Post. According to Variety, Twitter will stream Bloomberg TV's coverage on debates.twitter.com. The following websites will also include debate live streams: ABC News, BuzzFeed News, CBS News, CNN, C-SPAN, Daily Caller, Fox News, Hulu, Huffington Post, NBC News, PBS, Politico, Telemundo, Wall Street Journal, Univision and Yahoo.
Snapchat will feature coverage of the debates via a Live Story. Meanwhile, NBC News has joined forces with AllspiceVR for a live virtual-reality 360 view of the debate. It can be accessed on Oculus Rift, Samsung Gear VR and HTC Vive headsets.
IBTimes UK will also provide live coverage of the debate.
The second presidential debate is scheduled for 9 October at Washington University, in St Louis, Missouri. The town-meeting will be moderated by ABC News' Martha Raddatz and CNN's Anderson Cooper. The final debate will air on 19 October at UNLV in Las Vegas, Nevada and will be moderated by Fox News' Chris Wallace.
The vice presidential debate between Mike Pence and Tim Kaine will occur on 4 October at Longwood University in Farmville, Virginia and will be moderated by CBS News correspondent and CBSN anchor Elaine Quijano.
© Copyright IBTimes 2023. All rights reserved.