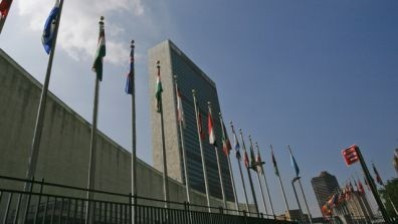 A bag containing 16kg (35.5lb) of cocaine was discovered at the United Nations headquarters in New York after apparently getting lost in the mail.
The drugs, believed to be worth around $2m (£1.25m), were hidden in hollowed-out books in a bag printed with a version of the UN symbol on it.
The bag raised suspicions in the mailroom when staff identified the bags as "obviously fake", which triggered a security alarm.
There was no name or address on the shipment, which had been delivered from Mexico via Cincinnati, according to New York Police Department spokesman Paul Browne.
"The working theory now is that possibly it was never meant to have left Mexico at all," Browne said. "Somebody in Mexico is probably in trouble now having let a significant amount of cocaine out of their possession."
A UN spokesperson has categorically denied that the package was purposely delivered to anyone at the UN or anyone located at its headquarters.