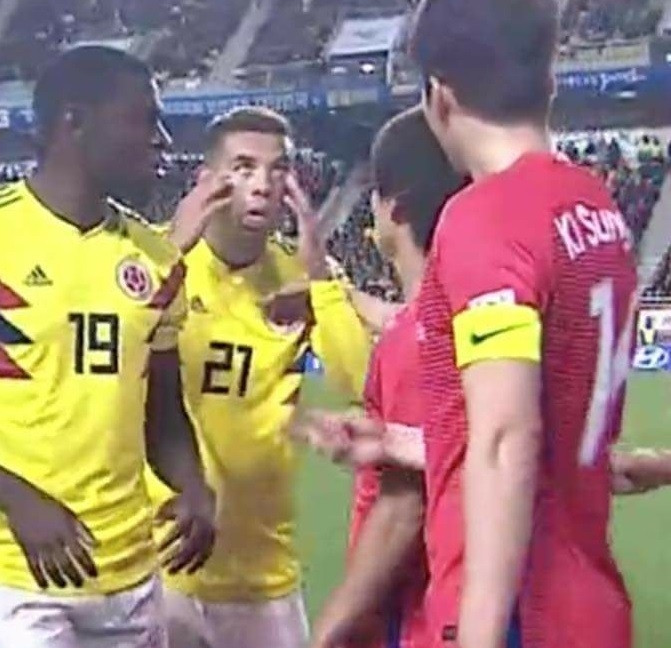 Colombian footballer Edwin Cardona is at the centre of a race row after seemingly making a 'slant eyes' gesture to South Korean players during an international game.
Cardona, 24, was spotted pulling the face during a dispute between both sets of players in the friendly, played at the Suwon World Cup Stadium.
The incident occurred in the 62th minute of the match, which South Korea eventually won 2-1.
Cardona, who is on currently loan at Boca Juniors from Monterrey, was filmed pulling his eyes towards opposition players during the match.
The midfielder now faces the prospect of a retrospective ban from Fifa.
Colombia head coach Jose Pekerman refused to discuss the incident when questioned by reporters following the game.
"I didn't see that gesture and I cannot comment on that," Pekerman told the gathered media, according to Goal.
"It was a physical game. Things happen during a game like this. I can't comment further on an incident that I didn't see with my own eyes."
South Korea won the game thanks to two goals from Tottenham Hotspur star Son Heung-min. Cristian Zapata pulled a late goal back for Colombia with a header from a free kick by James Rodriguez.
Both teams have qualified for next year's World Cup in Russia, but neither team are in good form currently. South Korea had previously won only one of eight matches in 2017, while Colombia have not won in five straight games.