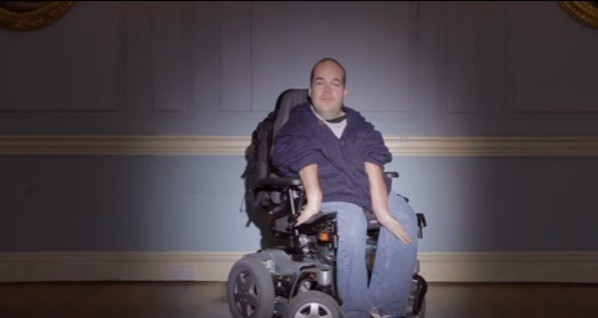 YouTube has courted controversy after banning an advert promoting a new porn website aimed at disabled people.
The makers of the trailer for Come4, a not-for-profit website described as "a new vision of sex", expressed their disappointment after the video sharing site pulling the short film, claiming its content violated its "terms of service".
The 90-second advert, still available on Vimeo, is narrated by disabled rights campaigner Asta Philpot and shows him candidly recalling his experiences with prostitutes at brothels.
Some of the explicit footage illustrates a visit to a brothel with his father in which they take time to choose 'the right one'.
"In my life I've been in love once," he says in a voiceover as prostitutes and naked men frolick at a brothel. "She didn't know. I'm sure she never even noticed me.
"Now these days are gone, I never stay long with the same girl. I pay for it and I enjoy that.
"I know it's illegal but I don't care. And nor does my dad, he enjoys coming with me. Choosing that right one. I loved my first time so much I decided to come back with my friends. Men, women I don't care.
He finally appears on screen to tell viewers: "My name is Asta Philpot. I've been in a wheelchair all my life.
"If you don't like me or my fantasies, or you don't think I have the right, you can kiss my arse."
The closing message reads: "Against all odds, and the law, Asta Philpot has spent the last five years helping disabled people discover the wonders of sex."
Philpot, who was born with arthrogryposis, a condition that places severe restrictions upon his movement, believes everyone has the right to a sex life, said he was "pretty disgusted" by the decision.
He said YouTube has failed to recognise the message in the provocative film because they could see "beyond the naked breasts".
"It's actually ethical. A friend of mine died without ever having a [sexual] experience and I don't ever want to let that happen again," Philpot said.
A YouTube spokesperson said the company "has community guidelines which govern what content is acceptable to post on the site. When people see content that they think is inappropriate they can flag it and it is reviewed by our staff. If the content breaks our guidelines, we remove it."