If Comet Ison makes it past the sun when it hurtles past at the end of the month, it will be so bright that it will be visible in the daytime sky, experts have said.
Dubbed the Comet of the Century, Ison would be the first comet visible during daylight for more than 330 years. The last time that happened was in November 1680 with the Great Comet and it was regarded as a warning omen from God.
Ison is hurtling towards the sun at almost 143,000mph. On 28 November, it will reach its closest point to the sun at 1.2 million miles above its surface. The comet's speed then is expected to be 845,000mph.
If it survives the solar encounter, it should come back into view from Earth from the start of December. According to nightskyinfo.com, Ison should reappear on 5 December in the eastern morning sky.
Science correspondent Tom Feilden told BBC's Today programme: "The good news is Ison is going to get brighter and higher in the night sky as it approaches the sun, so we are going to get a much better view as the days go by.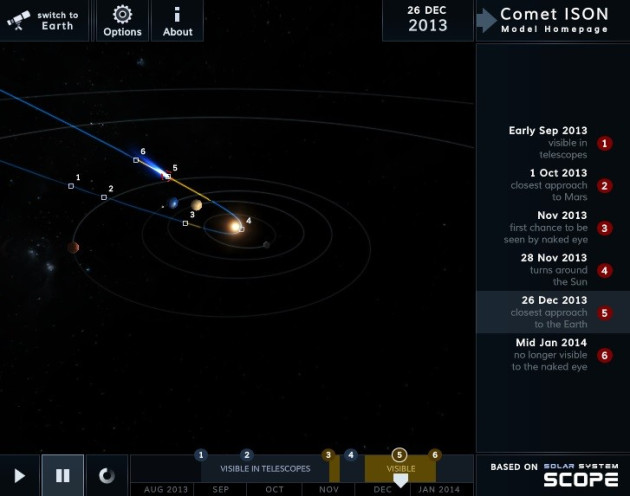 "If it survives that encounter with the sun it could even be bright enough to be seen during the day in early December."
On its return from the sun, Ison will come within 40 million miles of the Earth on 26 December and would be visible until mid-January.
"Although after perihelion [the point at which the comet is nearest the sun] Ison's head will have faded the impressive tail should be visible even from light-polluted cities," said nightskyinfo.com. "The tail will grow longer and longer with each passing day, while the comet's head will become less distinct."
READ MORE:
Comet of the Century: Where to Watch Ison Before Close Encounter with Sun [PHOTOS]