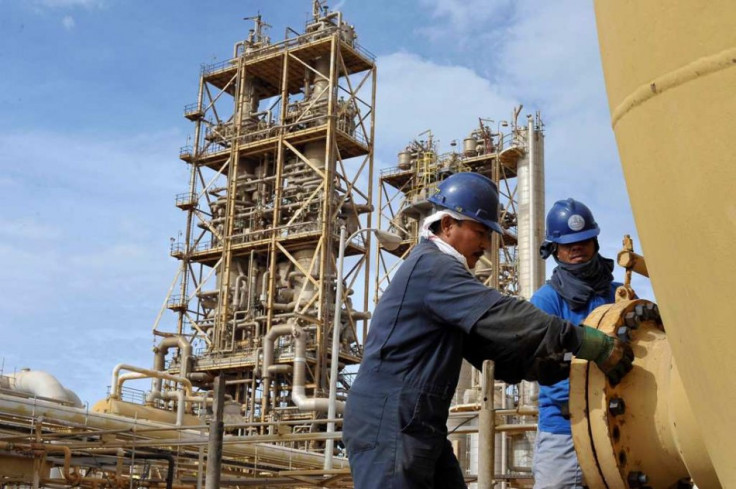 Oil futures rose on Monday (26 September) after Algeria's energy minister Noureddine Bouterfa claimed Saudi Arabia was in broad agreement with the need for a crude production freeze that remains on the cards.
At 11:52am BST, the Brent front month futures contract was 1.53% or 70 cents higher at $46.49 per barrel, while the West Texas Intermediate rose 1.19% or 53 cents, with talks between Opec and non-Opec producers set to begin at the International Energy Forum (IEF) in Algiers.
Speaking to Bloomberg TV, Bouterfa claimed: "Saudi Arabia is ready to freeze production at the January level." That was when the kingdom pumped 10.2m barrels per day (bpd). Saudi production has since risen to 10.67m bpd.
"It's important to see what measures can be adopted in the short-term and very short-term to find a solution to this situation that isn't helping any OPEC country," the minister added.
Riyadh has so far maintained the IEF meeting would merely be "consultative" in nature. Speaking in Dubai earlier in the trading session, Saudi state oil company Aramco's chief executive officer Amin Nasser merely said he expects oil market volatility to persist in the "near future".
Analysts at Vienna-based JBC Energy said the chances that Opec will take some action over the remainder of the year – although probably only at the regular meeting in Vienna on 30 November – appear to be rising.
"Key proponents are raising the stakes and are talking now about a potential output cut, rather than a freeze. Nonetheless, the market chatter comes upon the widespread realisation of two things: firstly, that the global oil balances will stay in surplus for longer, and secondly, the amount of surplus combined with key Opec countries producing at record highs makes a freeze a potentially toothless strategy."
Bjarne Schieldrop, chief commodities analyst Nordic bank at SEB, felt the catch of cutting oil production is that if Opec and Russia decide to cut, then these volumes will eventually move back into the market again.
"So far this year Iran has moved back into the market and currently produces 3.6m bpd which is not too far away from its pre-sanctions level of around 3.9 m bpd. However, from September we see that we still have some 2m bpd of outaged volume left among OPEC members which is waiting to move back into the market."
Away from the oil market, precious metals were largely in negative territory. At 12:22pm BST, the Comex gold contract was down 0.06% or 80 cents at $1,340.90 an ounce, while Comex silver saw a much steeper decline of 1.49% or 29 cents to $19.52 an ounce. Concurrently, spot platinum was 1.39% or $14.69 lower at $1,039.31 an ounce.
With US presidential rivals Donald Trump and Hillary Clinton ready face each other in the first of the presidential debates on Monday, analysts at Citigroup warned that gold may be in for a rocky ride in the final quarter of 2016.
In a note to clients, the bank said: "Polls have started to tighten ahead of the US presidential election, and we have raised the probability of a Trump victory. We expect a Trump win would bring out higher volatility in gold and forex, which in turn should lead to higher volumes in other precious metals."