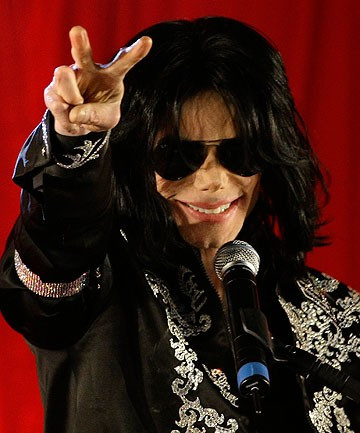 The trial into the death of Michael Jackson began September 27, with his recent doctor Conrad Murray due to stand trial for involuntary manslaughter.
And it seems that in an unexpected change of events, Jackson's children may testify.
Murray, 58, is accused of giving Jackson an overdose of a powerful sedative propofol, which Jackson himself reportedly referred to as "milk" to help ease his insomnia.
Although it was already known that Jackson's siblings Janet, LaToya, Jermaine, Marlon, Rebbie, Tito and Randy as well as parents Katherine and Joe Jackson are listed as witnesses.
What has come as a surprise is that Jacksons children Prince, 14, Paris, 13, and Blanket, 7, are now also included on a potential witness list.
Reasons given for their inclusion were for jurors to attempt to gauge their familiarity with their family, said the Mail Online.
However now it seems that it is in fact Jackson's children who want to testify in the manslaughter trial of Dr Conrad Murray.
According to Radar Online, Prince and Paris have informed their grandmother Katherine of their intentions to testify, but agree that their younger brother Blanket is too young at nine to take the stand.
A report from Radar Online quotes insiders who believe that the pop superstar's eldest children could unintentionally provide a testimony that helps Mr Murray's case.
In terms of what side of the trial the children's potential testimonies' would fall on, a source close to the Jackson family revealed that the children have warm recollections of the medic, which could help with the jury.
The Mail online cites the source as writing: "Prince and Paris adored Doctor Murray and thought he was a godsend for their father."
It would also seem that their aunt Latoya thinks it will be a good idea reportedly saying that it would be good for the children to, "Get what is inside them, out of them.' She feels it is a way for them to release the hurt" cites the Mail Online.
But they may never testify, as their 81-year-old grandmother Katherine r is concerned about the effect the ordeal will have on them.
A source close to the family is quoted as saying: "Katherine is resisting the move, because she knows how traumatic it would be for them" cited the Mail Online.
Murray has pleaded not guilty to a charge of involuntary manslaughter, but if convicted, faces up to four years in jail of involuntary manslaughter over the 50-year-old star's death on June 25, 2009.
The trial which is televised, will last five weeks and willl take place in front of a jury at the Los Angeles Superior Court.