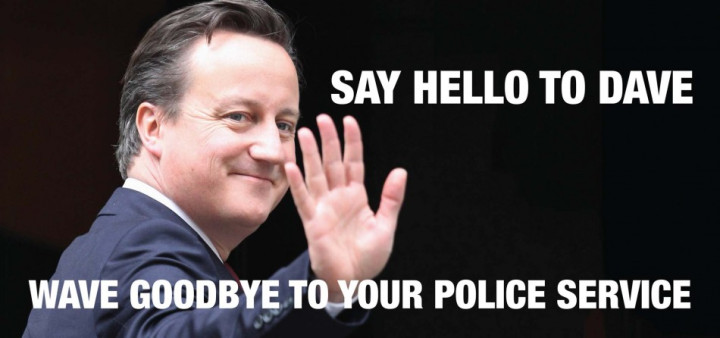 Rank and file police officers are set to ambush David Cameron at the Conservative party conference.
A huge 400 sq ft poster will hang in the centre of Birmingham where the party will gather from Sunday.
The prime minister will be forced to walk beneath it every day on his way into the ICC, where the conference takes place.
A number of smaller posters have also been put up around Birmingham city centre, reading "Mr Cameron, are you taking the P".
The posters are part of a coordinated campaign by the West Midlands, Warwickshire and West Mercia police federations, which are fighting planned service cuts of 20 percent to services by the government.
West Midlands chairman Ian Edwards urged Cameron to meet him for curry and talks.
He said: "We want jaw-jaw, not war-war and what could be better than a chat over a curry at a Birmingham balti?
"The only question is, has the Prime Minister got the appetite for a meeting with us?
"Our recent YouGov poll revealed that 70 percent of people thought the cuts were affecting front-line services while 76 percent felt reduced police numbers were putting the public at a greater risk.
"We get it. The public get it. We just need the Government to listen to what we are saying. We would welcome the opportunity to talk to Mr Cameron."
The West Midlands federation happens to be in close vicinity to the Sutton Coldfield constituency of chief whip Andrew Mitchell, who triggered a damaging row with police following an outburst at officers guarding Dowing Street last month.
Police officers claimed they were called "f***ing plebs" by the chief whip, although Mitchell repeatedly denied using that term.
This week, Mitchell accepted an invitation to meet the Federation for pleb-gate talks. However he pulled out of the conference in Birmingham, which will be attended by a throng of on and off-duty officers.
A Conservative party source insisted Mitchell had made the decision to stay away "on his own" because "he didn't want to be a distraction."