Apple has completely overhauled the design of its iPhone 5 to achieve a body that is 18 percent slimmer than its predecessor. The reduced thickness of the new iPhone has forced Apple to implement a plethora of new technologies, such as replacing the 30-pin connector with the new lightning connector and the Micro SIM of the iPhone 4S with a 'Nano' SIM card.
If you want to create your own Nano SIM, follow the steps below. If you are not confident about cutting your Micro SIM into a Nano SIM, then your mobile network customer service centre should be able to replace your existing SIM with a Nano version.
Things You Will Need
You will require the following things to get started:
A printer
A4-sized page
Tape
Ruler and marker
Scissors
Sandpaper or file
NOTE: The instructions provided in this guide are meant for reference purpose only and do not cover any warranty claims involving damage to SIM and/or device. Users are advised to proceed at their own risk.
Step 1: Take a print out of the PDF file linked here at 100 percent scale on an A4 page.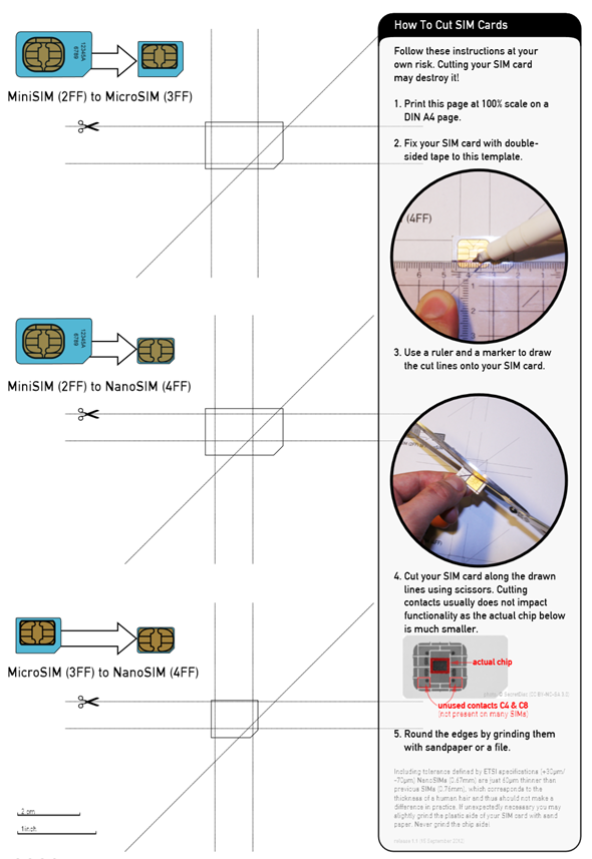 Step 2: Place your Micro/Mini SIM on the marked area of the A4 page you just printed, as shown in the image above. For instance, if you have a Mini SIM, it should be placed on the second marked area and a Micro SIM must be placed on the third and last.
Step 3: Fix your SIM using double-sided tape to the given template (highlighted outline) on the A4 page. Make sure that its edges are aligned correctly.
Step 4: Using a ruler and marker, draw the five lines along which you have to cut the SIM.
Step 5: Cut the SIM slowly and carefully. Be warned that you may damage your SIM if done incorrectly. Cutting along the edges of the SIM does not impact its functionality, as the chip inside is much smaller.
Step 6: Finally, even out the edges of your freshly cut Nano SIM using sandpaper or a file. Once again exercise caution to avoid accidental damage to the SIM card's circuitry.
Your homemade Nano SIM is now ready and should work with the iPhone 5.
For further assistance check out the video tutorial below [Courtesy: iDownloadBlog]:
[Source: Redmond Pie]