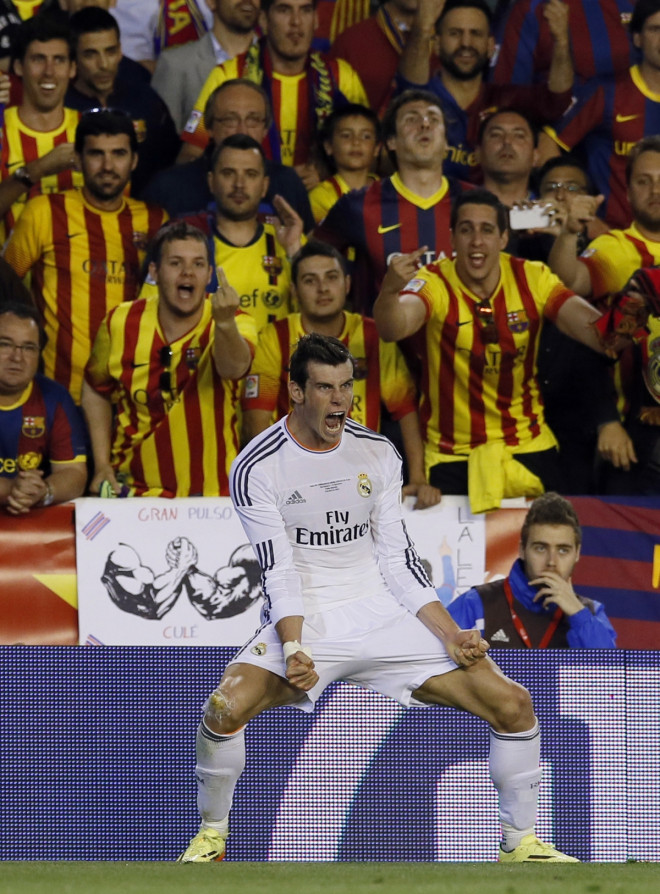 Spanish newspapers, foreign newspapers, even Catalan newspapers... all heaped praise on Real Madrid's British star Gareth Bale after he won the Copa del Rey with a stunning individual goal last night.
While the Catalans begrudgingly gave Bale his due, they rushed to proclaim the death of Barcelona's latest 'dream team' after five years of almost unbroken success.
Catalan newspaper Sport led the recrimination, its headline roaring "This era is over – Let's get the next one started!" Its reporters claimed that Barca "needs a thorough renovation: from the coach to star players" and said the performance of Tato Martino's team was "sad."
Catalonia's other major sports newspaper, Mundo Deportivo, claimed: "Barca close a tragic week with the third consecutive loss in which Messi does not appear" before describing the final as "a bitter cup" and admitted Real Madrid were superior.
Unsurprisingly Madrid-based newspaper Marca was far more upbeat, it's headline screaming "Champions!" and describing the match as "Prince of Wales' night" in honour of Bale and his wondergoal. Meanwhile Marca claimed Messi was anonymous and said it was "the end of the Barca cycle."

Daily AS struck a similarly bullish note, saying "Bale is the king of the Cup" and describing the victory as "fair and necessary", claiming Real were the better side throughout the game.
Beyond the Spanish press, La Gazzetta dello Sport described a "Bale masterpiece," while Bild said: "Bale shines even without Ronaldo next to him."
This defeat completes arguably the worst week in Barcelona's history. Having been knocked out of the Champions League, they have lost the Copa del Rey and sit third in La Liga after a calamitous 1-0 league loss against Granada.
Real, meanwhile, are dreaming of a treble. Bale's strike may have given them the confidence to make the dream reality, just as his predecessor in the Wales number 11 shirt, Ryan Giggs, ignited Manchester United's treble charge with an equally majestic goal against Arsenal in 1999.