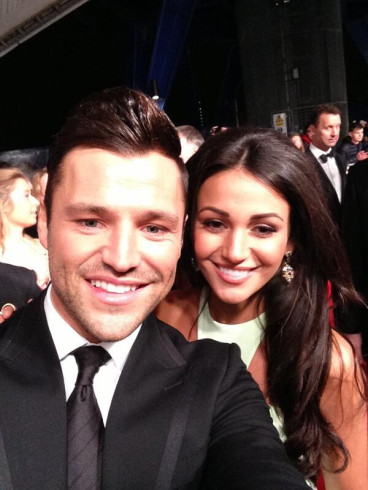 Coronation Street star Michelle Keegan kept her groom waiting for 30 minutes today, before making her grand entrance in a traditional white car decorated with white ribbons.
The Only Way is Essex star Mark Wright and Corrie star Michelle Keegan are rumoured to have spent a whopping £1m on today's ceremony at 16th century Hengrave Hall estate in Suffolk.
The couple have signed a large money magazine deal, meaning that none of the fans or media have managed to get a look at the bride. There is a strict no-photo rule to stop pictures leaking out and spoiling the six-figure deal with a glossy magazine.
Wright will today turn up with nine groomsmen, including his brother Josh who is best man.
Keegan's seven bridesmaids are rumoured to be wearing baby blue, while Wright opted for a black tuxedo.
The couple have been rumoured to have ordered around £60,000 of flowers to deck out the spectacular hall, which include 25 lavish bedrooms.
It is thought that around 140 guests will be attending the ceremony with 80 to be joining later for the ceremony.
The exclusive hire of Hengrave Hall is believed to start at £4,000, with the price increasing depending on what day of the week it is.
Rumours about the reception have included the couple organising kebabs from a takeaway in Essex to be delivered (at £17.50 per person) and two 'well-known' singers performing.
Michelle is set to walk down the aisle to a track called From This Moment On by American country and western star Shania Twain.
Other entertainment will include a fairground carousel, candy cart and cocktails.
Earlier today, soap icons and reality stars were captured on Bury St Edmunds, Suffolk, ahead of the ceremony.
Wright's mother Carol wore a peach full-length lace gown complete with an over-sized pink 'bow' hat.
Also, seen was Wright's best pal on the show James 'Arg' Argent and Lydia Bright. Argent who checked himself into rehab over Christmas after his party lifestyle got out of control. Since coming out of rehab, Argent dropped a stone and won the 'love of his life' Lydia Bright back.
On Twitter Argent said: "The day has arrived! So excited for @So excited for @MarkWright_ @michkeegan big moment. Love them both so much!!! #TissuesToTheReady"
Essex lad, Wright, 28, spent his last day as a bachelor playing a round of golf with his dad.
Wright popped the question to Keegan in 2013 in Dubai with a stunning five-carat diamond.
Wright was previously engaged to ex-Towie star Lauren Goodger, but he called off the engagement in 2011 as he believes she had cheated on him. The couple dated for 10 years in an on-and-off relationship.
Goodger was seen last night out dancing the night away, in a slinky beige dress revealing her new figure, the star has lost more than two stone in weight since February.
Goodger has denied any reports that she will be texting her old flame today, as well as claims her friend Katie Price will be helping with her body transformation to "show her former fiancé what he's missing".
"She will not be texting Mark, her weight loss is her own personal goal that she has been trying to achieve for herself and no-one else and as for Katie Price well they're friends and Lauren respects her and her career but won't be enlisting her for support on hers!" Lauren's rep told the Mirror newspaper.