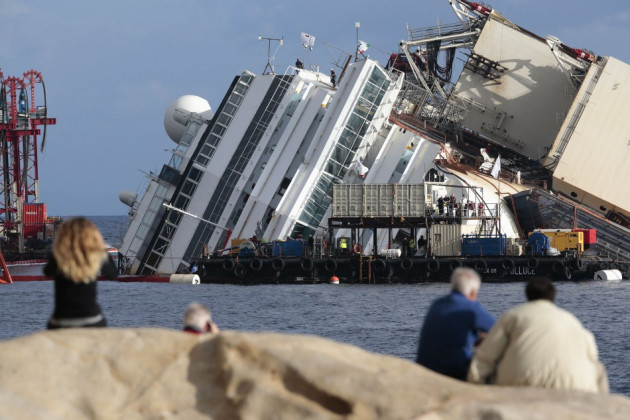 An operation to salvage the capsized wreck of the ocean liner Costa Concordia off the Tuscan island of Giglio has beguns.
The £500 million salvage attempt, which was delayed by three hours due to storms, will be the largest of its kind in maritime history and will last around 12 hours.
The operation, known in nautical parlance as parbuckling, is a proven method of raising capsized vessels.
The process is being run aboard the barge Polluce by Captain Nick Sloane, the senior salvage master, along with a team of specialists. Engineers using remote controls will command a synchronized leverage system of pulleys and counterweights to push the ship free from its rocky seabed perch.
The Costa Concordia crashed into a reef on 13 January 2012 after Captain Francesco Schettino's 'salute' to the Giglio Island, causing the deaths of 32 people. Two of the bodies have never been recovered and may lie within the wreck, which is caught on two spurs of rock.
The parbuckling operation will try to raise the vessel by an angle of 65 degrees. Hollow metal tanks have been fused to the side of the 114-tonne ship and filled with water to help bring it upright.
Chains have been looped around the hull of the shipwreck, and dozens of crank-like pulleys will drag on the chains to slowly rotate the ship. Once the ship is level, the tanks can be filled with air. The wreck will lay on a false sea bed of grout bags and steel platforms, set up for her to rest on.
After only eight minutes of the operation, there was already a pull of 2,000 tonnes on the ship, and this will increase by increments of 200 tonnes. Robotic cameras are monitoring the strain being placed on the vessel to ensure it can cope.
Although some observers fear that the pressure on the hull will cause the liner to break up, the salvage experts are confident the plan will work.
Sulphurous gas is likely to be emitted from the wreck as it is rolled upright, produced by the vast quantities of rotting food inside the ship.
The salvage team said there is no Plan B.