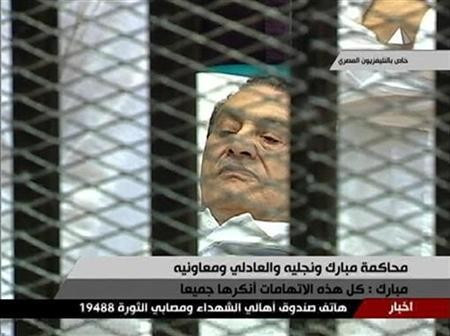 Former Egyptian President Hosni Mubarak was carried on a stretcher into a Cairo court Monday for his second appearance on murder and corruption allegations related to his rule.
In his first court appearance Aug. 3, Mubarak, 83, denied any role in the killing of pro-democracy protesters during the uprising that ousted him in February.
At that hearing, Mubarak faced the court lying on a stretcher in a cage. "All these charges, I deny them completely," he said.
Even thought the deposed leader and his sons stayed calm, Judge Ahmed Refaat was forced to call for calm and ordered some of the lawyers to sit down to allow proceedings to begin.
The hearing could decide if the head of the ruling military council, Field Marshal Mohamed Hussein Tantawi, a former ally of Mubarak and his defense minister for 20 years, will take the stand as a witness as defense lawyers have argued his testimony on Mubarak's role in trying to suppress the uprising, in which about 850 people were killed, could be crucial.
Defense lawyers also want to obtain permission to have thousands of witnesses be brought to court, with Hosni Mubarak's reportedly filling a request for 1,600.
Mubarak faces multiple charges, ranging from the killing of 846 people during the protests to financial corruption, so an expedited trial might be more hurtful than helpful.
Many Egyptians who want to him condemned and behind bars fear the Mubarak team could draw out the trial for months.
In one way or another, Mubarak's trials come as a bad news for the military council, the target of constant protests.
If the defense succeeds in calling senior military, including Tantawi, as witnesses, their already falling credibility is likley to suffer further. Mubarak seems determined not to go down alone.