A revolt is brewing in and around Cheltenham, where local councillors say Michael Gove's plan to close courts near the Conservative constituency will restrict access to justice.
The opposition is part of a growing number of insurrections by local officials and lawyers across the UK following the Ministry of Justice's announcement in early October that it plans to shut 91 community courts.
"The major issue is access to justice, not just for defendants but for victims of crime, for witnesses, for the police and victim support," said Barry Kirby, a Labour councillor in Gloucestershire, at a council meeting last month. The council has unanimously voted to fight the MoJ to keep open two local courts slated for closure.
"As an ex-magistrate myself, I feel it is important that the principle of the Magistracy is for local justice to be dealt with by local people," Cllr. Kirby told IBTimes UK.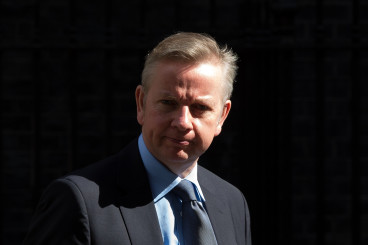 The council's decision to fight came a month after a letter to David Cameron from the Oxfordshire council's Conservative leader admonished the constituency's MP for slashing its government grants from £122m in 2011 to £62m in 2015, leading to cuts in front-line services.
The MoJ's plan to close 91 community courts across the UK will save £25.9m annually. According to the court closure plan released on 8 October, the government will "reinvest the savings" from the closures and sale of some court properties, but does not give details where. The country's 460 court and tribunal buildings cost taxpayers £500m each year. Over 10 years the closures will save £259m.
The Ministry of Justice "can only provide better access to justice if we take difficult decisions to reduce the cost of our estate", justice minister Michael Gove told Parliament on 23 June when he unveiled the restructure plans. It will be the largest number of courts to close since 2010 when the MoJ announced it would shut 142 courts.

Find out if a court near you is closing
The proposed closures of the Stroud Magistrates' Court and Gloucester Magistrates' Court will see all the cases from each consolidated at Cheltenham Magistrates' Court. The further closure of Cheltenham Tribunal will see those cases move to Gloucester County Court. The annual cost to run each of these courts is £132,000, £195,000, and £126,000, respectively.
"If Cheltenham Magistrates' Court is going to be asked to take on more work it is essential that it be provided with the resources it needs," said Cheltenham Tory MP Alex Chalk. That means money to improve the building and expand services.
Chalk said increasing the use of technology would fill the gaps created by the closures. "Video-links already play a role in court proceedings, but I believe their use can be expanded," he said. "The Ministry of Justice is investing significantly in technology to enable more issues to be resolved without people needing to travel to a court building."
Much of this technology has yet to be installed. At the moment, "the focus on technology to deliver justice really just focuses on the defendant," said Kirby. "We need to recognise that many people who use the justice system are not the defendants, but are victims, witnesses. This cannot be achieved by webcasting in the same way as a defendant from a prison."
Trouble isn't just brewing in Cheltenham. A survey conducted by Bath's Conservative MP Ben Howlett in August revealed 86 percent of respondents didn't want the Bath Magistrates' Court, County Court, and Family Court to close. Howlett agreed new technology could create efficiency in the courts, but worried access to courts could be "jeopardised".
A petition to save the Kendal Magistrates and County Court launched by solicitors Milne Moser has given Lake District locals a place to voice their concerns. "I strongly believe in local justice for local people administered by local people," wrote Ruth Otway, a past chairman of South Lakeland Bench, on the petition's website.
Many of the courts slated for closure are also listed buildings. The UK government recently spent a combined £1.7m upgrading the Grade II listed Carmarthen Law Courts, and the Carmarthen Civil, Family, Tribunal and Probate Hearing Centre. Local Plaid Cymru MP Jonathan Edwards said shutting them would be "a colossal waste of public money" and mock the government's "rhetoric of being fiscally competent".
In London, solicitor Charles Artley was at the Hammersmith County Court hearing a judgement in one of his cases Friday 9 October. He called Wandsworth County Court, where the government intends to move the Hammersmith staff and cases, "dreadful".
"I've had cases there for the past 20 years. The administration is awful. They never answer the phone," Artley said. This makes it difficult to file paperwork and get any information about his cases.
On top of that, it's "inaccessible" for the people he represents in Hammersmith and Fulham. "It's nice and modern," Artley said, "but it's quite a ways away."
Shadow Justice Minister and Hammersmith Labour MP Andy Slaughter echoed Artley's concerns. "The closure of the Court will create capacity problems at Wandsworth County Court," he wrote in a blog post following publication of the government's plan. He noted the Wandsworth court will need to expand its facilities to cope with the concurrent closure of Lambeth County Court.
Closing Hammersmith County Court will "increase the travel and waiting times for users and primarily affect those on modest means and those reliant on public transport," Slaughter wrote. Having no civil court in the community will establish the exact "opposite of local justice".
Christine Irvine, who has worked the front desk of Hammersmith County Court as an usher for the past nine years said the proposed closure has been an endless topic of conversation. "Everybody, all the solicitors, all the barristers, the Housing Officers, have been speaking about [the closure] saying they're worried."
What it comes down to, Gloucestershire councillor Kirby said is "that it is also about justice being seen to be done, not just justice being achieved."
Kirby cited the recent example of Conservative MP for Gloucester, Richard Graham, who was barred from driving for six months in July after travelling 90mph in a 70mph zone in the Cotswolds.
"He was dealt with in Stroud Court, so there could not be any claim of undue influence, lenient or otherwise by his constituents," said Kirby.
"If there is only the Cheltenham Court" it would be important to have the case heard "outside of Gloucestershire to ensure that justice is being seen to be done."