Courtney Love has lambasted French president François Hollande after getting caught up in the Paris Uber protests.
In a series of expletive-filled Twitter posts, the Hole frontwoman revealed that the car she had been travelling in was "ambushed" and her driver "held hostage".
Describing the scene, she told her 1.95 million followers that demonstrators were armed with metal bats and rocks, and said that she was "safer in Baghdad".
The "Queen of Grunge" went on to accuse the leader of letting the country to fall into disarray and instructed him to "get your ass to the airport".
Amid the panic she appealed to rapper Kanye West for asylum. He has an apartment in the French capital.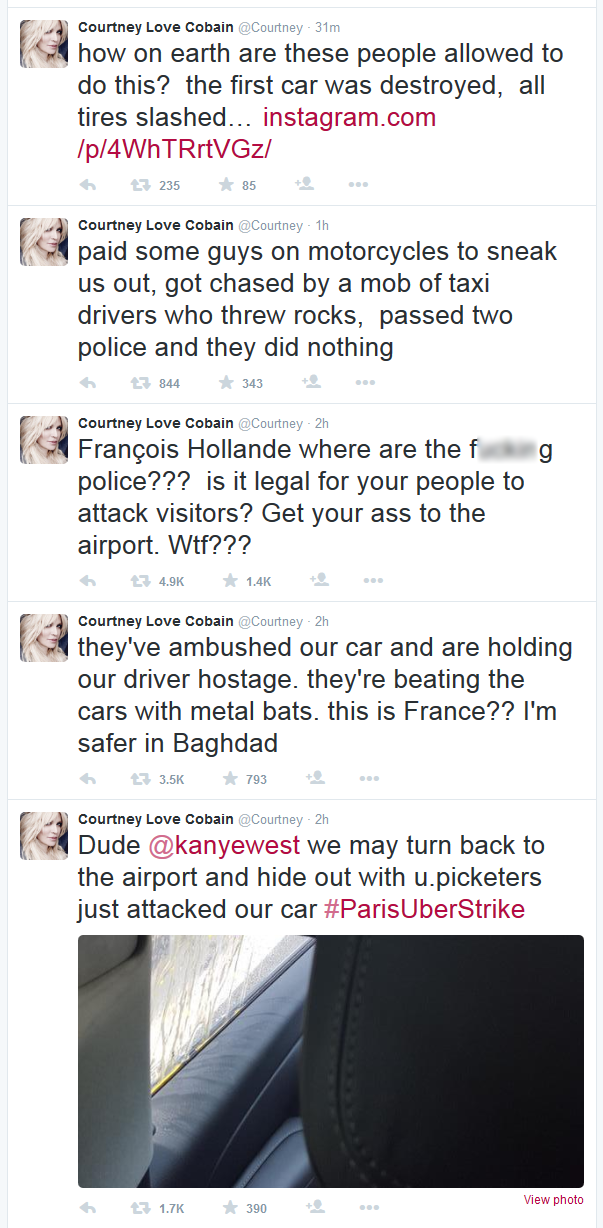 The musician later added on Instagram: "How on earth are these people allowed to do this? The first car was destroyed, all tires slashed and beat with bats, these guys trying to open the doors and the cops are doing nothing?? French Taliban? Civil reform needed in France?? I want to go home."
The city of love has descended into chaos after taxi drivers went on strike to protest against the UberPop ride-sharing application. Tensions have been rising because they believe that Uber lowers their revenues and offers a lesser service to passengers.
G7 taxi firm head Serge Metz told BFM TV: "We are faced with permanent provocation [from Uber] to which there can only be one response: total firmness in the systematic seizure of offending vehicles.
He added: "We are truly sorry to have to hold clients and drivers hostage. We're not doing this lightly," reports Reuters.
An Uber spokesperson told IBTimes UK: "Uber firmly condemns the recent acts of violence against Uber partners and their cars, perpetrated today in Paris and in other French cities; whatever the anger, violence is never acceptable. Uber wishes to underline the fact that no French court of justice has declared uberPOP illegal."