Paris Uber protest: Violence erupts as taxi drivers revolt against UperPop ride-sharing app [Video]
Violence has erupted in Paris as taxi drivers go on strike and protest against the UberPop ride-sharing application, as roads are blocked, fires started, and vehicles overturned.
Access to airports and train stations in Paris and other cities across France have been blocked by local taxi drivers angered by UberPop and Uber, its US parent company, because they believe the application is illegal, lowers their revenues, and offers a lesser service to passengers.
Aeroports de Paris, which operates the city's Charles de Gaulle airport said on its website: "Access by road is completely blocked. The only way to get to CDG is by train." Photos published by the Reuters news agency show piles of burning tyres and upturned cars blocking major roads.
Families with small children abandoned their cars and walked along motorway hard shoulders to reach the airport, the Independent reports. An IBTimes UK reporter in Paris confirmed that all French taxi drivers are on strike.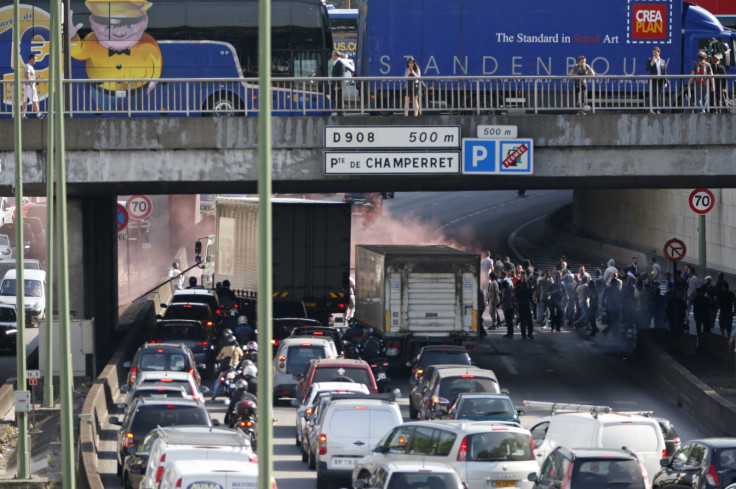 Further images show scuffles between cab drivers, along with police dressed in riot gear attempting to regain control with tear gas. Taxi drivers have blocked roads leading to Paris' Gare du Nord train station, where the Eurostar connects the country with London and Brussels. Eurostar tweeted to say disturbances are to be expected and 25% of trains are not running.
'Holding drivers and passengers hostage'
Speaking to French television channel BFM, Serge Metz, head of a taxi firm called G7, said: "We are faced with permanent provocation [from Uber] to which there can only be one response: total firmness in the systematic seizure of offending vehicles." Metz added: "We are truly sorry to have to hold clients and drivers hostage. We're not doing this lightly," reports Reuters.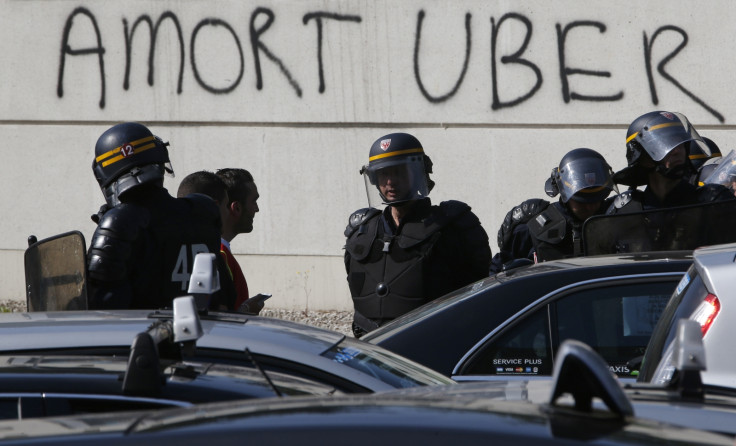 Barriers set up by cab drivers around Marseilles and Aix-en-Provence in south-east France, including at key motorway exits, have also blocked access to train stations in the two cities. The main access road to Marseilles-Provence airport was also affected.
'They're beating the cars with metal bats'
Singer Courtney Love was caught up in the protest, as the car she was travelling in was "ambushed" and her driver "held hostage".
She tweeted: "Picketers just attacked our car... they've ambushed our car and are holding our driver hostage. They're beating the cars with metal bats... paid some guys on motorcycles to sneak us out, got chased by a mob of taxi drivers who threw rocks, passed two police and they did nothing."
Local taxi drivers see UberPop, which works the same as Uber does in the US and UK, as a threat to their businesses and livelihood - a position shared by London's black cab drivers, who have also staged protests in the past. The lack of licensing for Uber drivers is a key cause for their concern.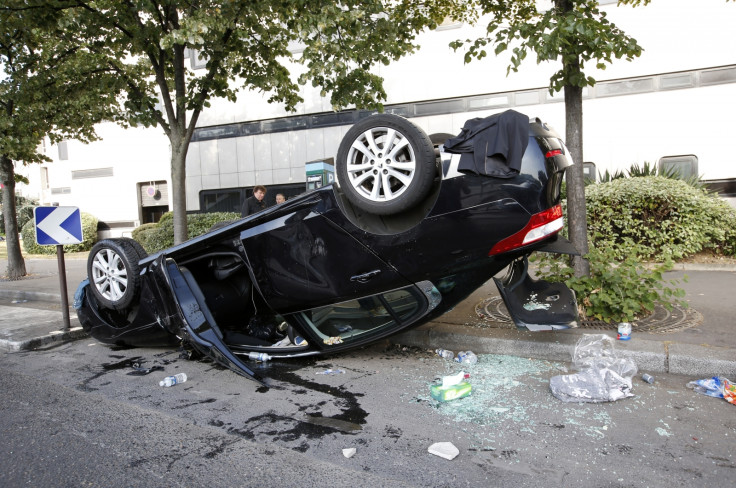 UberPop continues to operate in France, despite a new law coming into force on 1 January forcing all paid drivers to carry the relevant license and insurance. French officials claim Uber is now illegal under the new law, but courts have allowed it to continue operating in the country for now, pending a ruling on its legality from a constitutional court; Uber's case there began on 23 June.
The smartphone application links drivers signed into the service with customers looking for a ride; the driver takes them to where they want to go using his satellite navigation system, then payments are processed through the app, so no cash is exchanged.
A representative from the FTI taxi union in France claimed to Bloomberg that Uber and other such services are responsible for taxi driver revenue falling between 30% and 40% over the past two years.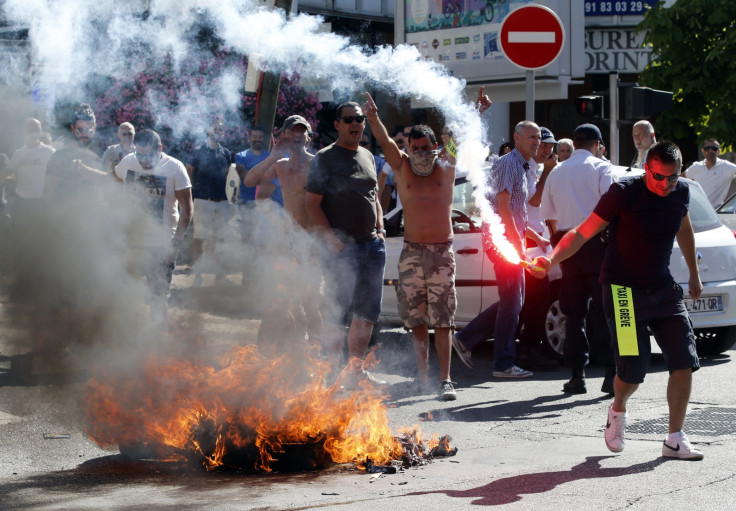 Uber often costs less than traditional taxis and the drivers can work as many hours as they like. In London, Uber drivers do not need to pass the famous Knowledge test, which is used to ensure all black cab drivers can navigate the city without a map or sat-nav.
An Uber spokesperson told IBTimes UK: "Uber firmly condemns the recent acts of violence against Uber partners and their cars, perpetrated today in Paris and in other French cities; whatever the anger, violence is never acceptable. Uber wishes to underline the fact that no French court of justice has declared uberPOP illegal."
© Copyright IBTimes 2023. All rights reserved.