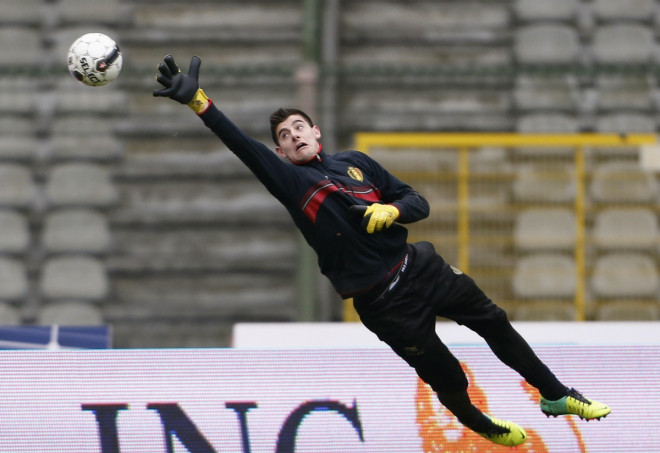 Thibaut Courtois has admitted that Chelsea boss Jose Mourinho is keen to have him back at Stamford Bridge next season but the Atletico Madrid loanee has not made a decision yet.
The 21-year-old Belgium international is currently enjoying his third successive loan season at Atletico Madrid and he is yet to make an appearance for Chelsea. But having garnered a reputation as one of the best goalkeepers in the world, the Portuguese manager is likely to have him in the squad to fight for a place with Petr Cech for the number one position.
Meanwhile, Atletico are trying to keep him in La Liga and according to reports they are planning to get him on permanent basis by offering Chelsea a lucrative offer or even include Diego Costa as part of the deal.
Asked about his future in an interview with Spanish newspaper Daily AS, Courtois said: "Atletico want me to stay and Chelsea want (me) to go back.
"My agent deals with those issues and he just tell me the very essential. We will have to see where I'm feeling better, I am not sure yet and so I have not made a decision."
Courtois has said several times that he would have liked to have made a decision before March but asked if he already knows where his future lies he said: "Not yet. I do not want to make a wrong decision.
"We still have to think about it. It is difficult to take a decision with so many parts involved and it is not the right time to think about my future. I belong to Chelsea, I have a contract with them and I do not have to rush to make a decision."
Last week reports claimed that Spanish giant Real Madrid are also ready to battle with Atletico for his services, while Barcelona have also been credited with keen interest in recent months.
"I have never heard anything about that. I'm focused on Atletico and I belong to Chelsea. If any European club want to sign me they have to speak with Chelsea and they will decide what to do."
But asked if he would accept an offer to play for Atletico's big rivals he said: "I do not know. Those are just rumours.
"I have contract with Atletico until June and then two more years with Chelsea. If any offer comes, Chelsea should decide. If Chelsea want to let me go... But that's not the case. Now there are only two teams to me: Atletico and Chelsea."