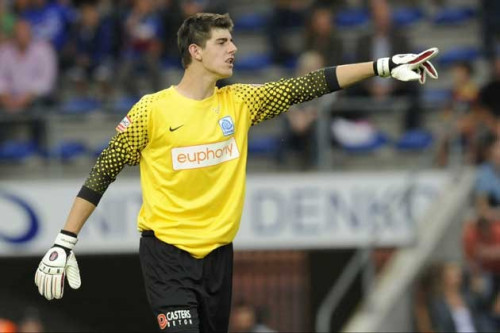 Chelsea goalkeeper Thibaut Courtois has revealed that he will return to Stamford Bridge if manager Jose Mourinho is keen on use him as the number one ahead of Petr Cech.
The 21-year-old 'keeper is currently enjoying his third successive loan season at Atletico Madrid and he is yet to make an appearance for Chelsea, after joining them in 2011 following a £5m move from Genk.
The Belgium international is now considered one of the finest stoppers in Europe but with Cech still immovable a number one at Stamford Bridge Corutois' future remains up in the air.
Asking in a interview with Barcelona-based Radio Cataluyna about if he is set to return to London at the end of the season, the Chelsea loanee said: "If I go to a team, I want to be the number one, and if something goes wrong, I'll leave my place.
"I'm 21 years old, but I've been playing for four year as a starting goalkeeper, with almost 40 games per season. Now I couldn't imagine not playing that many. I hope that if I come back its to play, if not, we'll look for another solution. They have a very good goalkeeper and that's a decision they need to make."
Nevertheless, Mourinho will have the last word about Cortouis' future and according to the keeper the Portuguese boss has not revealed his decision.
"I've not spoken to Jose Mourinho. We'll have to see where we go in the Copa and the Champions League and find a time to meet when he can.
I think we'll speak before the end of the season. A coach always wants the best for his team. They already have a great goalkeeper on the team, but I want to return and compete with him," Courtois added.
At the same time, Courtois rejected speculation regarding Barcelona's interest in acquiring his services.
"I know Valdes' contract is coming to an end, but that's not my business. I never had any contact with Barcelona. Nor did my agent. I've never heard anything."
Corutois has been a key player in Atletico's recent successes – leading them to the Copa del Rey last season and the Europa League in the previous campaign and his current manager recently claimed that he is keen on paying whatever Chelsea demand to keep him in the squad.
"I would pay without a doubt €26m for Courtois. Whatever they (Atletico) pay will be a bargain," Simeone said.