Real Madrid superstar Cristiano Ronaldo has been named as the winner of the 2017 Ballon d'Or award, seeing off competition from Barcelona maestro and perennial rival Lionel Messi to scoop the pinnacle of football's individual prizes for the fifth time.
The result did not surprise many, despite the Portugal captain's indifferent start to the new season. After having his minutes managed carefully by Zinedine Zidane, Ronaldo, who accepted the award at the top of the Eiffel Tower, had an almighty impact in the latter stages of last season's Champions League, scoring 12 goals including a brace in the final against Juventus and hat-tricks against Atletico Madrid and Bayern Munich in the semi-finals and quarter-finals to help Los Merengues become the first team to retain the trophy in its revised format.
Upon receiving the award, Ronaldo said: "Of course I feel happy. This is something I look forward to every year. The trophies won last year helped to win this award. Thanks to the Real Madrid team-mates. And I want to thank the rest of the people who helped me reach this level."
Ronaldo's exploits extended outside Europe's premier club competition, in which he made history once again earlier this week as he became the first player to score in all six of his side's Champions League group stage matches.
The former Manchester United attacker also plundered 25 league goals as Real lifted their first La Liga title in five years over Messi and Barcelona, whose sole Copa Del Rey victory pales in comparison to their arch-rivals' trophy haul in 2017. Along with the Champions League and La Liga, Real also won the Supercopa and UEFA Super Cup, with Ronaldo scoring a splendid, crucial goal against Barcelona in the former.
Ronaldo's victory over Messi means he is now on par with his nemesis in the Ballon d'Or stakes. The Argentine won the award for a then-record fifth time in January 2016, but he was unable to retain it last year and, despite producing wondrous form as he has for the majority of his career, had little chance of wrestling the coveted trophy from Ronaldo's grasp.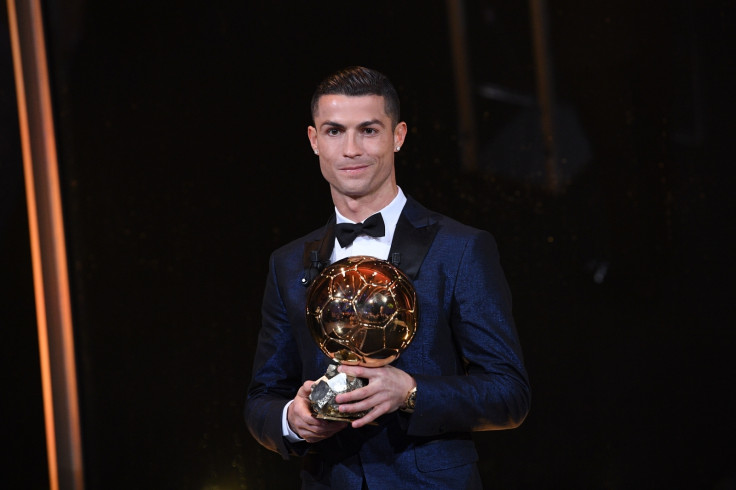 Though Messi and Ronaldo reigned supreme once again, the top 10 was not overly dominated by La Liga. Paris Saint-Germain talisman Neymar (3) legendary Juventus goalkeeper Gianluigi Buffon (4), wonderkid Kylian Mbappe (7), N'Golo Kante (8), Robert Lewandowski (9) and Harry Kane (10) managed to muscle their way into the cream of the crop, with Real Madrid duo Luka Modric and Sergio Ramos featuring in fifth and sixth respectively.
A host of Ronaldo's Real Madrid teammates were also included in the 30-man shortlist made up of votes from 173 football journalists and compiled by France Football, who reassumed control of the Ballon d'Or last year. Modric (5), Ramos (6), Isco (12), Marcelo (16), Toni Kroos (17) and Karim Benzema (25) all made the cut but there was no sign of Gareth Bale, who dropped out of the list entirely after enduring an injury-hit 12 months.
Barcelona could not boast as many representatives as Los Blancos, with Luis Suarez (13) the only other Camp Nou star to join Messi on the shortlist. Former Barcelona star Neymar landed third, while his young teammate Mbappe took pride of place in seventh. The final part of PSG's attacking triumvirate, Edinson Cavani, was placed in 11th as his goalscoring feats in France were recognised.
The Premier League was soundly represented throughout the shortlist. Liverpool stars Philippe Coutinho (29) and Sadio Mane (23) were included off the back of some dazzling performances, while David de Gea (20), Eden Hazard (19), Kevin de Bruyne (14), Kane (10) and Kante (8) all managed to earn a place in the top 20.
Final 2017 Ballon d'Or rankings
1. Cristiano Ronaldo
2. Lionel Messi
3. Neymar
4. Gianluigi Buffon
5. Luka Modric
6. Sergio Ramos
7. Kylian Mbappe
8. N'Golo Kante
9. Robert Lewandowski
10. Harry Kane
11. Edinson Cavani
12. Isco
13. Luis Suarez
14. Kevin de Bruyne
15. Paulo Dybala
16. Marcelo
17. Toni Kroos
18. Antoine Griezmann
19. Eden Hazard
20. David de Gea
21 = Leonardo Bonucci, Pierre-Emerick Aubameyang
23. Sadio Mane
24. Radamel Falcao
25. Karim Benzema
26. Jan Oblak
27. Mats Hummels
28. Edin Dzeko
29 - Dries Mertens, Philippe Coutinho