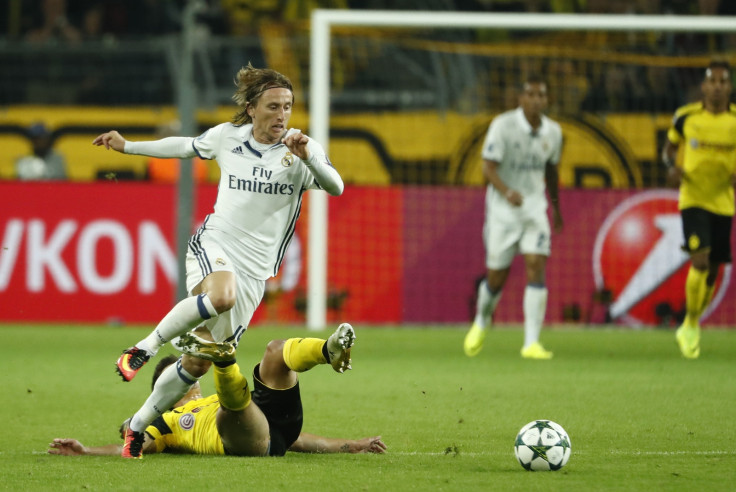 Luka Modric has given Zinedine Zidane a massive injury boost ahead of the La Liga game with Leganes on 6 November by returning to the Real Madrid training session following a long-term on the sidelines. James Rodriguez and Marcelo are also in line to return to action on weekend but Cristiano Ronaldo and Karim Benzema were unable to complete the workout with the rest of their teammates.
Modric is yet to play since the Champions League draw against Borussia Dortmund on 27 September after he was forced to undergo surgery on his left knee. The former Tottenham star was expected to be out of action until after the coming international break.
However, the Croatian international has made good progress in recent weeks and could even make the squad for the La Liga encounter with Leganes, after Real Madrid confirmed he was back in training on Friday morning (4 November).
"The big news from the session was the presence of Luka Modric, who worked alongside the rest of his teammates as they focused primarily on possession exercises and shooting at goal," the club said in its official website.
Yet, Croatian national team boss Ante Čačić has also included Modric in his squad ahead of the coming crucial World Cup qualifier against Islandia on 12 November.
Modric had already completed a full training with James and Marcelo on Thursday when the rest of the Real Madrid player enjoyed a day off, following their Champions League 3-3 draw at Legia Warsaw on Wednesday night.
James and Marcelo missed that trip to Poland due to a groin injury and illness respectively. However, they look in contention to face Leganes after having completed the last two workouts.
Yet, the Colombian international himself has confirmed the good news in an interview with RCN, playing down suggestions he had suffered a serious injury.
"I am fine. It's not what they were saying, that I was badly injured. It was only something minor," James said. "They need to relax. I am fine and I am training. I wanted to play in the Champions League, but I have to be intelligent. When you feel something you have to stop a little. I spoke to the medical staff and I sat out a day, but now I'm training and I'll be ready for the weekend."
However, Cristiano Ronaldo and Benzema sparked speculations about their fitness on Friday after Real Madrid revealed that they failed to train with the rest of their teammates. Yet, the duo trained in the gym instead along long-term absentees Casemiro and Pepe, with Ramos continuing his recovery on his own.
"Cristiano Ronaldo and Benzema worked on the indoor facilities alongside Casemiro and Pepe, as they continued with their respective recovery programmes. Sergio Ramos worked individually out on the pitch at Real Madrid City," Real Madrid confirmed.