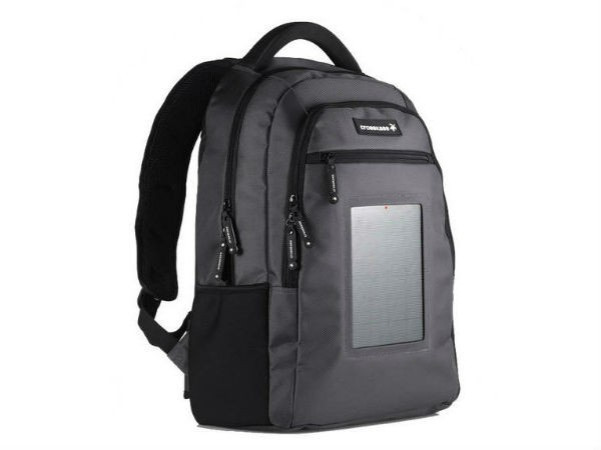 Key Features:
3 Watt solar panel
25 litre capacity
2,200mAh rechargeable battery
Price as Reviewed: £139
Introduction
The revolution in smartphone technology in the last five years has been phenomenal. One aspect of the technology however has lagged behind and has barely improved since the launch of the original iPhone in 2007 and that's battery life.
One day's use is standard, but try playing some intensive 3D games and/or streaming HD video and you'll be reaching for the charger soon after you've finished you lunchtime sandwiches. The solution is therefore to remain within shouting distance of a power socket, or strap on a battery pack, making your sleek smartphone quite a bit chunkier.
The problems are exacerbated when you leave the office and venture out into the real world. Therefore, the idea of strapping a solar panel to the front of your backpack in order to power your gadgets while out and about seems like the answer to our prayers.
Let's see if the Crosskase Solar 15 is the solution to our smartphone battery problems.
Crosskase Solar 15: Design
The design of the Solar 15 is not much different to the design of a traditional backpack and it comes in both grey and black, meaning those of you looking for something a little more extravagant will be disappointed.
The backpack consists of one main storage space, plus two smaller pockets at the front. There are also two padded pouches on the sides to hold (small) drinks bottles, sunglasses or whatever will fit in there.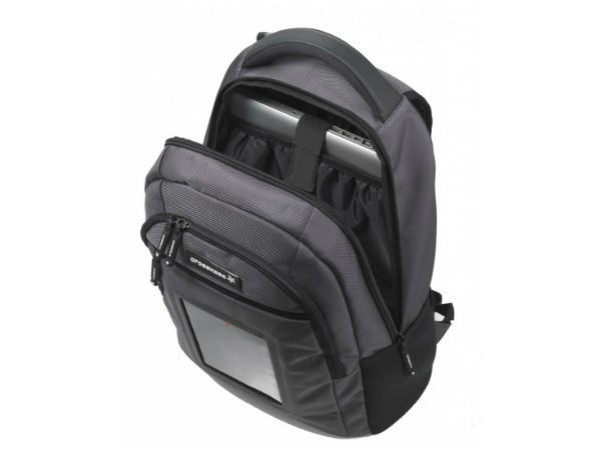 The bag is 45cm high, 37cm wide and 12cm deep. It weighs 1.7kgs including the supplied battery and in-built solar panel. The addition technology built into the bag doesn't add too much in terms of bulk, though it has to be said the bag, even when empty is heavier than most similar-sized backpacks.
The Solar 15 is constructed using "high-grade 1680D Ballistic Nylon" which is both water repellent and protective. If it is really pouring down, then a neat hide-away rain cover can be deployed with minimal fuss and which really does protect your bag and its contents from the rain (this was easily tested this summer in London).
The rear of the backpack features padded shoulder straps as well as the back panel being padded with a special airflow system which is designed to provide support and comfort while keeping you cool.
While we certainly felt the support and comfort, it failed to keep us cool on a number of occasions - but maybe that's just because we're just not cool enough.
The build quality of the Solar 15 was certainly above your run-of-the-mill backpack, but we did see a couple of the zipper tags come off in our hands, making opening and closing them a bit of a struggle.
Crosskase Solar 15: Battery and Solar Panel
Obviously the main reason anyone will be buying this backpack over another, is the inclusion of a solar panel and accompanying battery pack.
The 3 Watt solar panel sits at the front of the bag, to take full advantage of whatever light is available. You'll know the solar panel is charging the battery by the appearance of a small red LED at the top of the panel which lights up when there is sufficient light to power up the pack.
The supplied battery pack is located in the front pocket of the backpack, inclosed in a protective, zippered sleeve. The power comes to the battery pack by way of a lead which has a micro USB connection.
As well as obviously charging when the sun is shining, the solar panel will trickle charge in standard daylight or artificial light and even works in the rain, thanks to a splash-proof cover.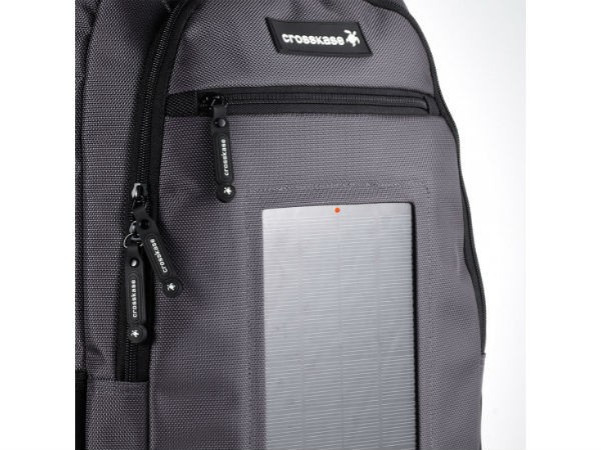 The 2,200mAh battery has been specially designed to work with solar panels and promises to store enough charge to power your smartphone twice over. In practice we found this to be more or less true, though because we were constantly charging the battery when not in use, it was hard to tell.
The battery charges fully in eight hours when using the solar panel. Plug it into the mains using the provided adapter and it will charge in just three hours or four hours using a USB connection.
Connecting it to your smartphone, music player, GPS device or handheld games console is done using a supplied retractable USB cable and 9 alternative adapter fittings, letting you connect to a range of devices including Apple devices.
The supplied adapters include micro and mini USB, a 30-pin dock connector for Apple devices like iPhone and iPod, along with proprietary adapters for phones from Samsung, Sony Ericsson, Motorola, Nokia as well as a connector for satnavs from TomTom.
We found some of the connectors to be a bit fragile and you need to be careful when connection your gadgets to the battery.
Crosskase Solar 15: Use
In use, the Crosskase Solar 15 does exactly what it sets out to do. The battery charges quickly and the provided adapters mean you are unlikely to have a phone or portable gadget you cannot connect. The extra battery power came in very useful on several occasions while we were testing.

We would have liked the Solar 15 to charge our laptop, but that would probably have meant a backpack the size of a small house to fit in a solar panel sufficiently big to power such a backpack.
The bag is comfortable and solid. The 25 litre volume of the backpack should be enough for most outings and an in-built sleeve provides an ideal place for your laptop, though it offers little in the way of protection from a direct hit, meaning you'll have to be careful where you put your bag.
There are enough pouches and pockets available to fit most if not all of your tablets, smartphones, pens, books and magazines. As we said the Solar 15 is a little bit heavier than a regular backpack and during extended use, it can begin to weigh you down, but the padding does make it more comfortable.
Crosskase Solar 15: Verdict
There's no denying that the Crosskase Solar 15 can be a lifesaver. Whether stranded on the top of a mountain, at a festival or simply while out and about, having the extra juice to power up your smartphone, tablet or GPS device is great.
Add to this decent build quality, comfort and good looks, and you might be thinking: "Why wouldn't I buy this bag?"
Well the simple answer is the price. £140 is an awful lot to pay for a backpack - solar panel or no solar panel.
Consider that you can buy an external battery pack for anything from £15 to £60, depending on the capacity you want, and you can get a decent backpack for around £30. While this combination won't let you charge the battery while on the go, if you are careful and remember to power up the battery before leaving the house, it could provide a viable and cheaper alternative.
If however you do need the solar recharging power offered by the Crosskase bag, then it does its job very well, and the plethora of connectors provided means you can share the power with anyone, no matter what smartphone they possess.
There are cheaper solutions out there, but these invariably have smaller batteries and take longer to charge.
Scores:
Design: 8/10
Value: 6/10
Use: 8/10
Overall: 7/10
The Good:
Nice design
Multiple connectors
Battery charges quickly
The Bad: