Crude oil prices witnessed mixed trade on 20 June, but logged gains for the week, amid fears about potential supply disruptions from Opec's second-largest crude producer Iraq, which is battling a Sunni insurgency.
August Brent contract finished 25 cents lower at $114.81 a barrel on 20 June.
Prices gained 2.1% for the week as a whole.
August US contract finished 78 cents higher at $106.83 a barrel on 20 June.
July WTI contract finished 83 cents, or 0.8%, higher at $107.26 a barrel on 20 June.
Prices inched up 0.33% for the week.
Commerzbank Corporates & Markets said in a 20 June note to clients: "A barrel of Brent oil continues trading at around $115 due to the unrest in Iraq. Developments in the region will likely dictate the direction of oil prices.
"If southern Iraq, where most production sites are located, remains calm, the oil price will probably fall back into the middle of its established medium-term trading range."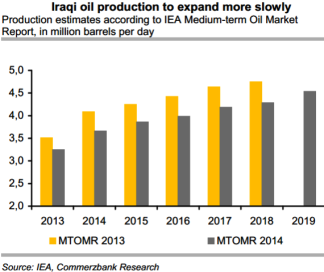 Commerzbank Corporates & Markets said in a separate note: "Recent events cast an unfavourable light on political stability and security in Iraq, and this is likely to dampen investment in oil infrastructure. It is therefore unlikely that in the years ahead Iraq's oil production will expand as quickly as hitherto assumed."
"In its recent Medium-term Oil Market Report, the International Energy Agency (IEA) lowered its forecast for Iraqi production capacity in 2018 by 470,000 barrels per day. By 2019, the IEA now expects production to increase by only 1.28 million to 4.54 million barrels per day.
"This would still mean that Iraq accounts for 60% of the growth in OPEC supply expected over this period. But much more OPEC oil will be needed at the end of this decade, because the shale oil boom in the US is expected to show a noticeable loss of momentum by then," Commerzbank added.
Iraqi Kurdish Oil
Iraqi Kurdistan looked ready to unload the first shipment of crude oil from its new pipeline at an Israeli port.
After weeks of seeking a buyer for the disputed crude, over which Iraq's central government claims sole sales rights, a ship carrying the cargo was tracked to waters near Israel's Ashkelon port on 20 June.
Reuters reported that the tanker is expected to dock early on 21 June, although it was not clear whether the oil on board the SCF Altai tanker had been sold to a local refiner or was going to be stored.
Brent At 9-Month High
Brent crude held at $114.91 a barrel at 10:34 GMT on 20 June, having breached a nine-month high of $115 a barrel on 19 June.
Tensions in Iraq have escalated in recent days as Sunni extremists, led by the militants from Isis (Islamic State of Iraq and the Levant,) fought for control of Iraq's biggest oil refinery – the Baiji facility.
The White House has announced it will send 300 troops to support the Iraqi national army as it combats the insurgency.