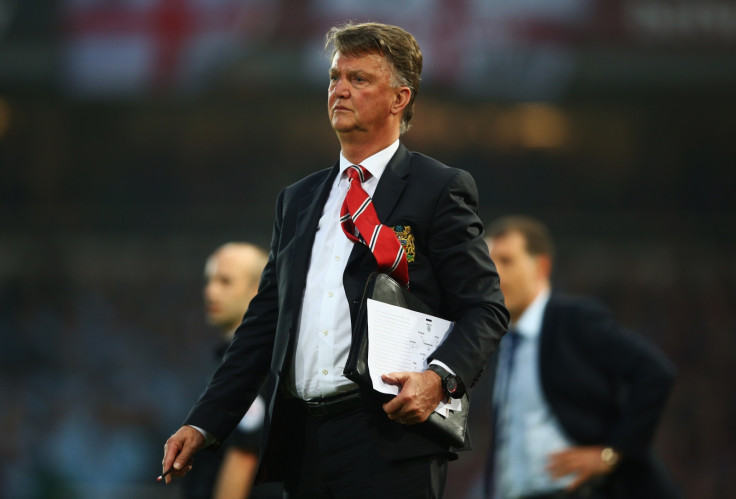 Manchester United manager Louis van Gaal insists Saturday's (21 May) FA Cup Final against Crystal Palace is about the club's ambitions, not his own future. The under-pressure Dutchman revealed he is desperate to lift the famous trophy at Wembley Stadium and has tried to deflect speculation away from his long-term future at Old Trafford.
Van Gaal insisted his sole focus is on the interests of the club, amid speculation about him being replaced by Jose Mourinho this summer. "I think the interests of the club are much more important than the manager," he said during a pre-match press conference, according to the BBC.
"Of course, you have put your own aims. [Winning the FA Cup] is one I have always had. But close is not enough.You have to win it. I have read that the last FA Cup is 2004, so also for Manchester United it is a big title. We are playing in the most prestigious temple of England. It confirms how important it is."
Victory against Crystal Palace will give United their first major trophy since the departure of Sir Alex Ferguson in 2013. But Van Gaal insisted the club's trophy drought is not something that has been concerning him in the build-up to the game.
"For me it is not the most interesting point," the United boss said. "We are able to win something, now we can win something but still you have nothing, it is always a final you cannot predict. First we have to win.
"It is not good to speak about my interests. It is important for the club, the players, the manager and his staff. We have played four matches of six away. We deserve to win. But Crystal Palace beat Tottenham so it is also deserved they are at the final."
Van Gaal also admitted winning the trophy is his only concern and he would happily accept a scrappy 1-0 victory. "Always your starting point, to impress and perform good, depends on a lot of factors, including your opponent," the United boss confessed.
"Our starting point is to win well and score beautiful goals. But if we win 1-0 that is also enough. Winning is the most important thing in a final, otherwise you have nothing."