Cuadrado, Reus and Koke: How United, Liverpool and Chelsea are Affected by Barcelona Fifa Transfer Ban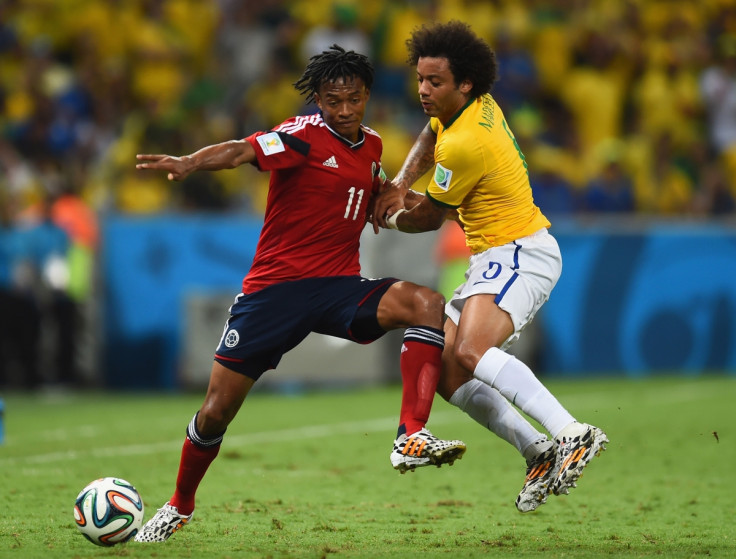 England's footballing giants are on alert due to reports in Spain claiming Barcelona may step up negotiations for Juan Cuadrado, Marco Reus and Koke in order to close all the deals before the end of the transfer window - after Fifa hit them with a transfer ban to take effect from January 2015.
The Spanish giants were handed a 14-month ban last April but after Fifa's decision was delayed by appeals Barcelona embarked on a huge summer overhaul – signing Luis Suarez, Thomas Vermaelen, Jeremy Mathieu, Ivan Rakitic, Marc-Andre ter Stegen and Claudio Bravo.
However, Fifa have now rejected their latest appeal and Barcelona are resigned to serving the transfer ban from next January's transfer window.
Reports in Spain indicate the jittery Catalans may go on a 'spending spree' before the end of the current transfer window in order to bolster the squad, not just for this season but for the next one.
While Mundo Deportivo suggests Barcelona may try to secure deals for both Cuadrado and Reus, Sport thinks they are going to try to sign Koke in the coming days – with United, Liverpool and Chelsea being alerted.
Louis van Gaal is still in the market for a winger like Cuadrado or Reus, while Brendan Rodgers is said to be keen on the Dortmund star as he wants to strengthen the attack with one top addition in order to fill the huge gap left by Luis Suarez.
Meanwhile, Chelsea boss Jose Mourinho has never hidden his admiration for Atletico Madrid midfielder Koke.
But should the Premier League giants want any of those players they may need to slug it out with Barcelona.
Recent reports claim the Catalans have given up on Cuadrado to focus on Brazilian Douglas Pereira due to Fiorentina's high demands, but the recent ban could change their plans once again.
Nevertheless, with Dani Alves' contract set to expire next summer the club will need a right-back to replace him and Cuadrado is said to be Luis Enrique's first choice.
Meanwhile Mundo Deportivo claims Barca could also consider signing Reus but loaning him to Dortmund until next season.
Having signed Neymar and Luis Suarez during the last two summer transfer windows, Barcelona were said to be interested in the German international as their next marquee signing but with the ban they may consider accelerating his arrival.
Furthermore, Barcelona could try to sign Koke as a long-term replacement for Xavi Hernandez, who is expected to leave the club next season. As with Reus, their plan will be to secure his services now and loan him to Atletico until next summer.
© Copyright IBTimes 2023. All rights reserved.