Cub Swanson believes he should be next in line to get a featherweight title shot ahead of the higher ranked Frankie Edgar.
Following UFC 212, there was a new featherweight champion in town as Max Holloway comprehensively dethroned Jose Aldo via a third round TKO win on Saturday (3 June).
The Hawaiian's victory was ideal for Frankie Edgar, who cemented his place as the number one featherweight contender at UFC 211, as he had already lost to Aldo twice before and has never faced Holloway.
On the flipside, the result was not ideal for number four ranked Swanson despite his four-fight winning streak, for his two losses in the last 12 fights came against Holloway and Edgar.
Swanson lost to Holloway via submission in April 2015 but having won four in a row since and reinventing himself as a fighter, the 33-year-old claims he deserves a title shot.
"I think that we had a good go at it," Swanson said on the UFC 212 post fight show on FS1. "I don't think I fought very good. He [Holloway] was the better man that night. I had a couple injuries in the fight that just made me tank. He beat me up good."
"I went back to the drawing board, I've come back stronger. I've proved that. I think I deserve another shot and I think it's the most exciting fight you could make right now."
Swanson also believes that he has waited long enough for a title shot, having never been given one since joining the UFC in 2011.
"I did enough for a title shot multiple times but [the UFC] went around back and took it from me," he added in an interview with FloCombat. "Frankie got the win in our fight--and hats off to him--but he just had a title shot and lost. That just happened last summer. He's had multiple title shots and I'm still yet to get one. How many are you going to give the guy?"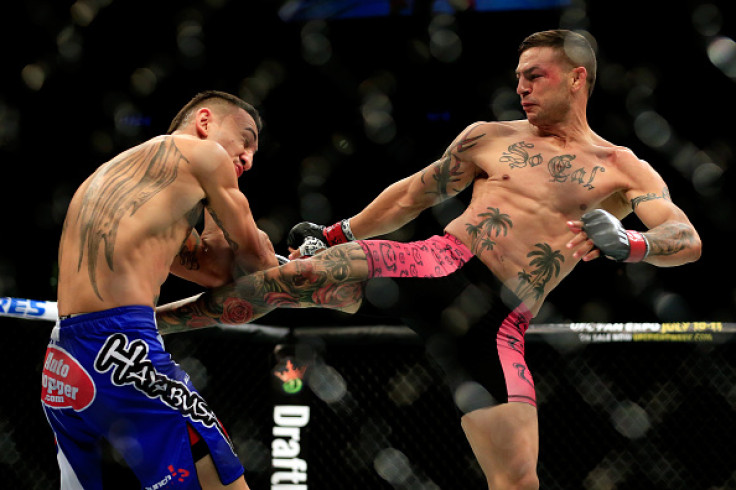 "The only losses I've taken on my entire time in the WEC and UFC have been to either champions or guys who went on to fight for the belt. I'm the longest standing featherweight from the Zuffa days and I've fought everyone they've put in front of me."