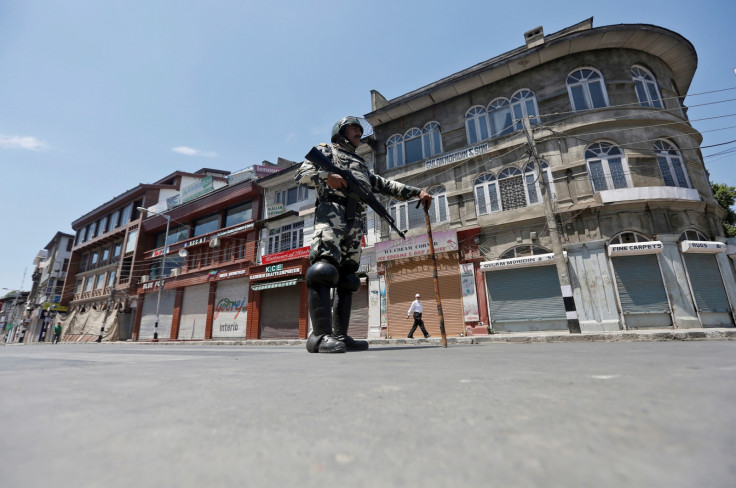 A curfew remains in place for the 13th consecutive day in India's Kashmir Valley over ongoing clashes but a media gag has been lifted. Law enforcement agencies have defended the shutdown saying it is intended at preventing any untoward incident.
Schools alone have been allowed to reopen in four districts Ganderbal, Badgam, Bandipora and Baramulla on Thursday, 21 July, but educational institutions will stay closed in the rest of the six districts in the Valley.
The volatile northern Indian state of Jammu and Kashmir descended into a crisis, paralysing normalcy early July after a prominent separatist leader Burhan Wani was killed by security forces. The unrest triggered by the killing has claimed as many as 43 lives in the past days and left thousands of others injured.
"To prevent escalation of violence, it has been decided to impose curfew in most of the parts of the Valley today [Thursday] as well. To reach places of their duties, identity cards of teachers/government employees shall be treated as curfew passes," an unnamed senior police official told the news agency Indo-Asian News Service.
Meanwhile, newspapers of both English and vernacular languages hit the stands on Thursday, 21 July after a five-day media ban. Their publication was resumed amid a barrage of stinging criticism against both state and federal governments on curbing the freedom of speech.
"It is good that newspapers have resumed their publications. We are happy not only from the business point of view, but because it will also spread factual information in the Valley where rumour mills are always buzzing," a newspaper distributor told the Press Trust of India. The decision was taken shortly after the state's Chief Minister Mehooba Mufti held an all-party meeting in order to handle the security situation.
The Indian government has once again accused Pakistan for fuelling unrest in India. "Instead of fixing its internal problems, Pakistan is trying to destabilize India. If terrorism is there in India then it is due to Pakistan which is sponsoring terrorism. Our neighbour is conspiring to disturb the situation in the Kashmir valley in the name of the religion," said Home Minister Rajnath Singh while addressing Parliament.
Only a day earlier, Pakistan had expressed solidarity with the victims of the clashes and condemned the Indian government for employing excessive force against civilians.