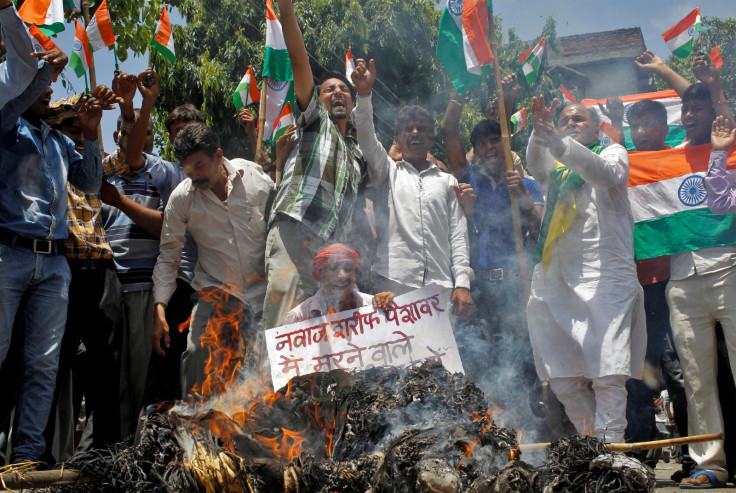 Pakistan is marking 20 July as a "black day" in a show of solidarity with the victims of the ongoing unrest in Kashmir. Prime Minister Nawaz Sharif has strongly condemned India for the alleged "atrocities" taking place in Kashmir over the past few days.
In a statement, Sharif insisted the fighting in the disputed region is no more a domestic matter for India but it needs to be sorted out in an international forum. "We will never leave Kashmiris alone and their case would be fought at all the diplomatic, political and human rights fora," said the Pakistani leader. Sharif has asked Pakistani people to wear black armbands as a sign of solidarity with the Kashmiris.
The restive Kashmir has recently been gripped by intense violence following the killing of prominent separatist figure Burhan Wani, leader of Hizbul Mujahideen, by security agencies. The Indian military and local police forces have been accused of employing excessive force in the state to quell the protests.
The Modi administration has also imposed a media gag, which has been in place for five days now, angering several pro-separatist groups. The federal government has defended the action but critics have pointed out that this is an indirect tactic to choke credible information emerging from the strife-torn valley.
Islamabad's response has come a day after New Delhi squarely blamed the neighbour for stoking the unrest in Kashmir.
Amid domestic challenges, Sharif wrote in a special message: "The current freedom wave in Kashmir would not subside and when nations arose in such a way, nothing could stem their way towards freedom. India had no other option but to accept its defeat before the heroic struggle. Pakistan stands with the Kashmiris in every hour of trial and this relation is not only based upon religion, civilisation and humanity but also related to blood."
Kashmir remains a longstanding territorial row between India and Pakistan ever since the two countries won independence from Britain in 1947. Of the three wars fought between the two nuclear-armed neighbours, two were due to the Kashmir dispute.