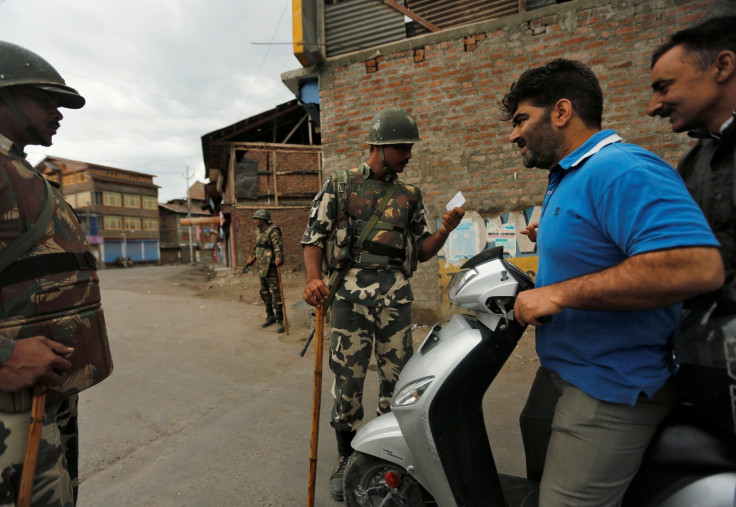 India has squarely pointed fingers at neighbouring Pakistan for rising separatist violence in the troubled region of Kashmir. India's Finance Minister Arun Jaitley, the leader of Rajya Sabha (upper house), insisted Islamabad's nurturing of separatist groups as the reason for the recent surge in fighting.
Speaking at the Parliament on the first day of the monsoon session on Monday, 18 July, Jaitley said: "Blaming measures by BJP-PDP [Bharatiya Janata Party-People's Democratic Party] government in Kashmir is one political thought. I don't have time to narrate history. The political struggle in Kashmir is not between parties but between this country and separatists," said the top Indian minister. "Pakistan has never reconciled to the idea of J&K [Jammu and Kashmir] being a part of India."
The Kashmir valley plunged into chaos shortly after Burhan Wani, leader of separatist organisation Hizbul Mujahideen, was killed by police forces on 8 July. At least 41 deaths have been reported in the valley during clashes between protesters and security forces. More than 1,800 people have been left injured in the skirmishes.
Speaking at the Rajya Sabha before Jaitley, opposition lawmaker and senior member of Indian National Congress Gulam Nabi Azad argued the New Delhi administration has effectively failed to handle the situation appropriately. The opposition has been blaming the excessive force employed by the army for the cause of the violence.
"We haven't learnt our lesson in Kashmir. We are with the government in ending militancy, but we can't support this treatment of civilians. Can civilians be treated like militants? The Kashmiris don't trust the government of India? The Centre can't rule Kashmir at gunpoint," Azad told Parliament. "Should locals be treated in the same way in which we treat militants? Should same bullets that are used on militants be used on the innocent people of Jammu and Kashmir? Should the militants and common man be treated alike?" he asked.
The Lok Sabha (lower house) was adjourned until Tuesday, 19 July. Prime Minister Narendra Modi hopes to pass some vital bills during this parliamentary session, including the Goods and Services Tax (GST) bill, which is expected to be tabled in Parliament in the coming days. The support of opposition parties is key for the ratification of the proposals as Modi's BJP does not have a majority in the Rajya Sabha.