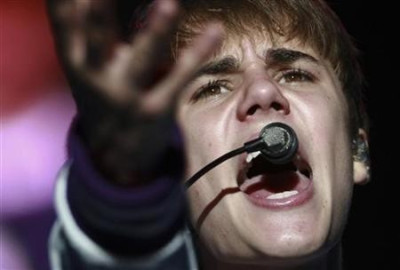 Teen heartthrob Justin Bieber says he wants to be like David Beckham. In an interview on 2DayFM, the 17-year-old said: "I'm just trying to be like [David] Beckham. Beckham changes his hair all the time. People didn't even notice when he switched his hair because he switched it so much."
However, Bieber is not far behind when it comes to being in the news for a haircut as well .The 'Mistletoe' hitmaker got a haircut in February ditching the "sideswept" hairdo that became his trademark. This was not good for Jay Foreman, the founder and CEO of toy-making company which makes Justin Bieber dolls. The Bridge Direct toymaker lost $100,000 because of said haircut.
He says the day news of Bieber's haircut broke, he heard screeches coming from his staff. "First off, I had no idea what he did," Foreman told CNNMoney. "I heard a lot of shrieks around me, and people running in and out of their offices," he said.
Meanwhile, as of now, Justin Bieber has decided to give his fans an early Christmas treat in the form of his new song with Usher.
"The Christmas Song" is the second single released from his forthcoming holiday album "Under the Mistletoe". Prior to this, Bieber collaborated with Usher on another single "Somebody to Love" from the album "My World 2.0."
The new single was released Monday on Ryan Seacrest's radio show.
"Justin and I did the classic record 'Chestnuts Roasting on an Open Fire.' This record is going to be remembered for years to come," MTV quoted Usher as telling Seacrest Monday morning.
"It's a record that has always been one of my favorites, and I'm happy that I was able to share it with Justin, and for us to put it out. The album is full of surprises. Justin's "Under the Mistletoe" is going to be incredible," Usher added.
Bieber has also collaborated with Mariah Carey, Boys II Men, The Band Perry and Busta Rhymes for his next album.