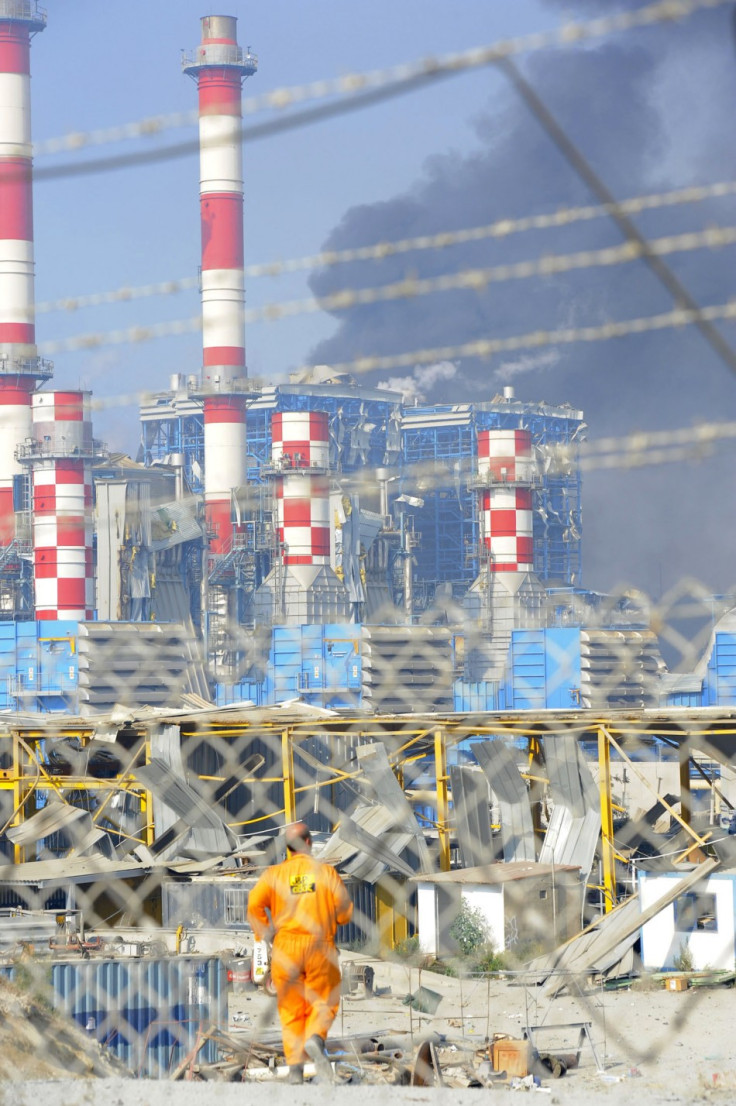 Dozens of containers of gunpowder seized from an Iranian cargo ship in 2009 exploded on Cyprus' main naval base Monday in a massive blast that killed 12 people, wounded 62 and wrecked a major power station, causing extensive blackouts.
The building in Cyprus was blown up when a bush fire spread to the base and set light to 2,000 tons of confiscated Iranian gunpowder stored at the munitions dump, an official said.
The gunpowder had been stored in containers after being confiscated in 2009 by Cypriot authorities from a ship sailing off its coast after the United Nations said it was breaching a ban on Iranian arms exports.
The vessel, the Cypriot-flagged Monchegorsk, was snared by US warships and was suspected of taking the explosives from Iran to Gaza.
Two Cypriot navy sailors, two soldiers and five fire-fighters were among those killed in the explosions.
The blast was felt for miles and caused widespread damage to homes in nearby villages, while shockwaves could be heard 40 miles away in the capital, Nicosia.
The island's main electricity generator - the Vasiliko power station - was also badly damaged and was expected to be offline for at least a day but police said a fire there had been contained.
Shocked President Dimitris Christofias described as "a catastrophe of biblical proportions".
Mr Christofias said: "We were devastated by this event, not so much by the material damage, but by the loss of human lives and the injury of many of our compatriots."
With criticism mounting over how the material had been handled and stored, Defence minister Costas Papacostas and National Guard chief Petros Tsalikides resigned after the tragedy, and the head of the island nation's navy, Commodore Andreas Ioannides, was killed.
Ioannides' son said top officials had repeatedly ignored his father's warnings that the gunpowder was stored unsafely, however Defence ministry officials refused to comment on the allegation.
The blast knocked out the island's main power station, causing widespread power cuts throughout the day. The Electricity Authority said the station would not t immediately come back online and officials appealed to the public to reduce electricity and water consumption.
Government spokesman Stefanos Stefanou said investigators had ruled out sabotage as a cause for the blast, but wouldn't elaborate. He said there was no risk of further blasts, and experts from abroad will help police and National Guard investigators determine the cause of the explosion.
Greece sent 10 military experts to assist with the investigation and both Greece and Israel dispatched power generators.