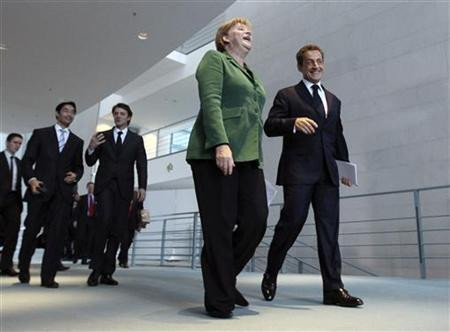 As Europe's leaders gathered Tuesday night for their second emergency summit in four days, news emerged that there was no concrete agenda for Wednesday's crisis meetings.
It means that markets are kept on edge with Greece's future still hanging by a thread and euro zone under threat of dissolving altogether.
There are also fears that the Greek debt crisis could spread to Italy and Spain.
British Prime Minister David Cameron will only fly this evening to Brussels to drop in for an "informal meeting" with other leaders before he continues to Australia - a trip already delayed by troubles both at home and abroad.
Before heading for Brussels, German Chancellor Angela Merkel faces a vote in parliament on increasing the bailout fund's firepower without committing more German taxpayers' money. The measure is expected to pass but the key question is whether Merkel will need to rely on opposition support.
British Chancellor of the Exchequer George Osborne also had his meeting with the 27 financial ministers of the EU cancelled, which will only put the markets into the "hands of the gods," according to one EU diplomat.
There is, however, a strand of hope that the 27 leaders will be able to salvage an agreement that would manage to put the last 18 months of financial difficulties behind them. But this is more of a "dream" than expectation.
The three-pronged plan
Wednesday's summit, already a rescheduled meeting from Sunday, was meant to decide three issues.
To decide on the minimum capital requirement for all EU banks, which is currently 5 per cent
A temporary buffer for banks until the financial crisis is subdued
Ensuring that banks have adequate "term" funding