Dale Cregan admitted to murdering police officers Nicola Hughes and Fiona Bone in a gun and grenade attack, prosecutors have told a court.
A jury at Preston Crown Court heard how Cregan, 29, fired 32 bullets at the officers in 30 seconds when they responded to reports of criminal damage at a house in Manchester. He then threw a grenade at them.
The jury was shown footage of the defendant arriving at a police station after the attack.
He was asked if he had a weapon, to which he responded: "I dropped the gun at the scene and I've murdered two police officers.
"You were hounding my family so I took it out on yours.
"Sorry about those two that have been killed. I wish it was men."
Bone and Hughes were killed in September during a routine call at an address in Hattersley, Greater Manchester.
The jury heard how Cregan had chosen the property specifically for the ambush and had forced his way into the house.
He called the police, telling them that someone had thrown a concrete block through the window.
Nicholas Clarke QC said: "Cregan's carefully laid plan had been successful. He had lured two unarmed officers to his door and he was armed, ready and waiting for them.
"As Nicola and Fiona walked through the small front garden, he opened the front door and immediately fired his Glock."
Prosecutors said the officers were both shot in the chest but were saved by their body armour and made a tactical retreat.
"As they retreated, more shots were fired. Nicola Hughes was shot just below her armoured vest in the middle of her back causing her to fall forwards, paralysed, on to the path. As she was falling or lying flat on her stomach she was shot three more times.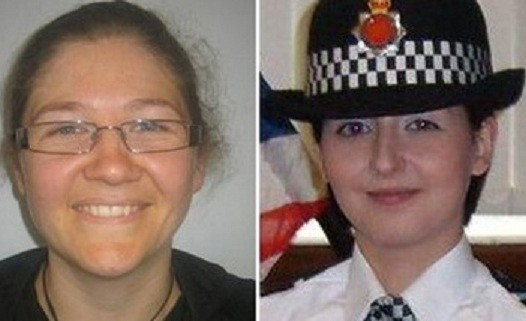 "Cregan wasn't finished. He turned his attention to PC Hughes and fired three more shots into the back and side of her head. She was shot eight times, causing a total of seven gunshot-related injuries."
They said he then threw the grenade back towards the garden of the property as he fled the scene.
Cregan is also accused of murdering David Short and his son Mark. He is standing trial with nine other defendants: Luke Livesey, Damien Gorman, Anthony Wilkinson, Jermaine Ward, Matthew James, Ryan Hadfield, Leon Atkinson, Francis Dixon and Mohammed Ali.
Atkinson, 35, from Ashton-under-Lyne, Livesey, 27, from Hattersley, Gorman, 38, from Glossop, Hadfield, 28, from Droylsden and James, 33, from Clayton, are all accused of the murder of Mark Short along with Cregan and the attempted murder of three others (John Collins, Ryan Pridding and Michael Belcher) at the time.
Cregan, Dixon, 37, from Stalybridge, Wilkinson, 38, from Manchester and Ward, 24, are accused of the murder of David Short. All four are also jointly accused of the attempted murder of Sharon Hark on the same day and a single charge of causing an explosion.
Wilkinson is additionally charged with possession of a firearm with intent to endanger life and Ali, 32, from Chadderton, Greater Manchester, is accused of assisting an offender.
All pleaded not guilty to the charges. The trial continues.
PC Fiona Bone and Nicola Hughes Deaths: Dale Cregan Trial Starts amid Tight Security
Dale Cregan Murder Trial: Prosecution Outlines Case Against Accused PC Killer