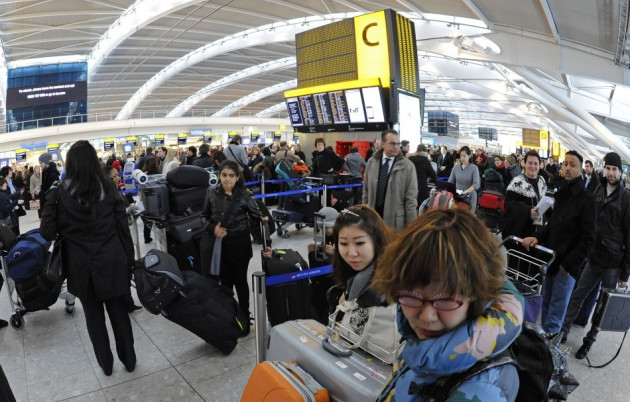 Heathrow airport will have all its immigration desks open and manned as thousands descend on London for the Olympics, immigration minister Damian Green has claimed.
Green told the home affairs select committee that waiting times at passport control were on target to be cut to 45 minutes at the most. He said the target was acceptable.
The minister was responding to criticism from committee chairman Keith Vaz, who said he was "appalled" by the length of queues he witnessed during a 7am visit to Heathrow.
Complaints came as reports emerged of fed-up passengers slow-handclapping immigration officers in protest at the length of time it was taking to get through immigration control.
Green said more than 500 extra passport-trained staff would be put in place, while fast-track lanes could be set up for visitors from low-risk countries, such as the US, New Zealand, Canada and Japan.
He said that Heathrow would soon be going into "full Olympics mode", taking on 500 extra staff, while peak times will see every desk manned.
Although he admitted that the airport had suffered in April, he said the UK would not be embarrassed by lengthy waits at the airport. He said: "There aren't endless long queues now.
"The idea that there are endless queues day after day would be misleading now. The commitment I am giving is that it will be manned at busy times."
Green described the plans as a "specific Olympics commitment", suggesting that it might not continue past the games, although he said new staff were being trained to continue to meet demand on the airport.
He said that Heathrow could be expected to face as many as 100,000 passengers a day during the Olympics, a major step up from its 70,000 average.