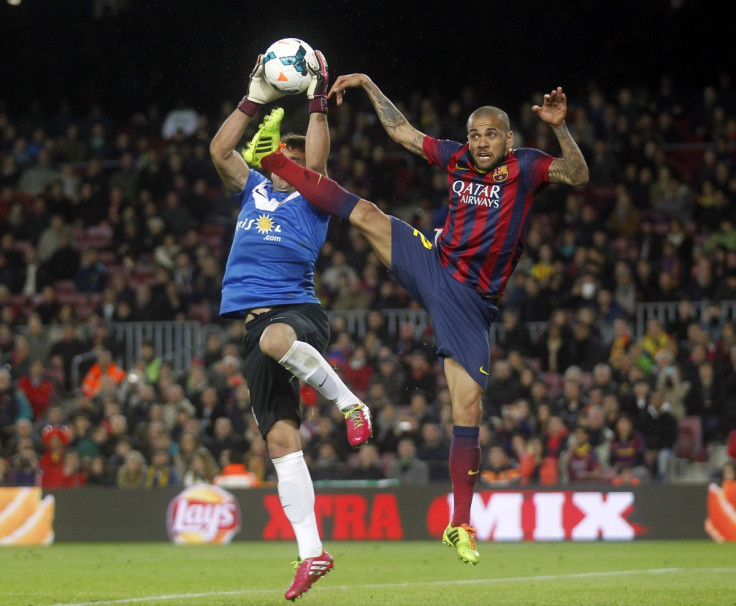 Barcelona duo Lionel Messi and Neymar have urged club officials to commit the long-term employment of Dani Alves to the Camp Nou with a new deal, amid speculation on his uncertain future at the Spanish giants.
The 32-year-old right-back recently suggested he will leave the Champions League finalists once his contract expires on 30 June, after the club had failed to meet his demands to renew his contract at the Camp Nou.
"There has been a lot of rubbish written, which I have been forced to put up with, and when push comes to shove, I have to come out and defend myself, and say what I have to say. I am with the team 200% but with the board about 10%. As it is, I have one foot, half a body and almost my head out of the club," Alves revealed.
And after Alves also denied reports he was going to join Paris Saint-Germain, The Guardian claimed "Manchester United are in pole position" to secure his services as a free agent, with Louis van Gaal said to be looking for a replacement for the out-of-favour Rafael.
But both Neymar and Messi have encouraged club officials to rethink their plans and convince Alves to pull a 180 on his intentions.
"I hope that he stays. If I were president I would renew his contract," said Neymar. "To be more clear? Impossible," he continued, according to Sport.
Messi, meanwhile, claimed the Brazilian is still "the best full-back in the world," suggesting the club will struggle to replace him should they decide to let him go.
"He's a very complete player, the best full-back in the world I think, it's very hard to find a full-back like Dani with the ability he has and with the attitude that he plays every game, it's difficult to find that today," Messi said.