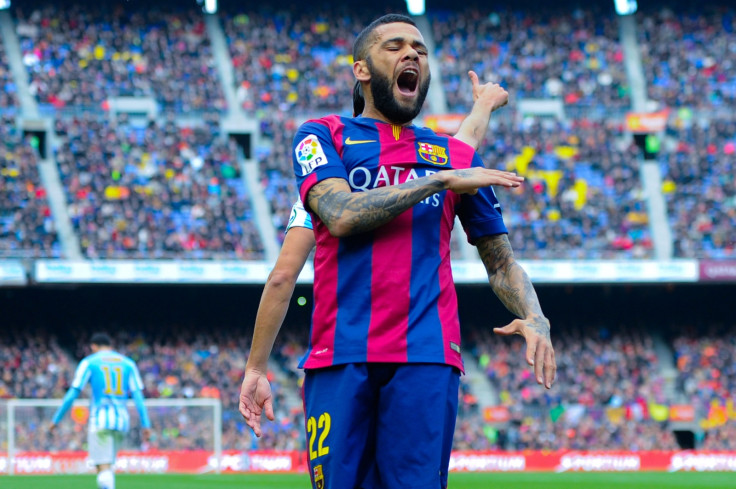 Barcelona star Dani Alves has given fresh hopes to Manchester United over a potential move to Old Trafford this summer after revealing both that he is likely to leave the Camp Nou and that he rules out a move to Paris Saint-Germain, the other club reportedly interested in securing his services.
Being out of contract at the La Liga champions at the end of the current season, the 32-year-old Brazilian international can negotiate a move to another club as a free-agent.
Earlier in the season, the player himself revealed his intention to have an experience in the Premier League, with both United and Liverpool monitoring the situation, but reports in Spain announced later that he was eventually ready to move to PSG, after agreed a pre-contract agreement to join the Ligue 1 side.
Barcelona have also tried to commit his future to the club in recent weeks but the player has decided to reject all its approaches as he believes he is not valued enough at the Camp Nou.
Alves himself has indeed claimed that he will probably announce his decision to move somewhere else after the Champions League final on 6 June, while denying negotiations with PSG.
"I have options, which I will consider, but the decision has to wait until after the Champions League final. I have come out to talk today about a lack of respect towards me and, like anyone else, I have my limits. I don't want to have to talk about these things because I prefer to do my talking out on the pitch," Alves said in a press conference.
"But there has been a lot of rubbish written, which I have been forced to put up with, and when push comes to shove, I have to come out and defend myself, and say what I have to say. I am with the team 200% but with the board about 10%. As it is, I have one foot, half a body and almost my head out of the club."
And asked whether PSG are among his options, he said: "No."
Meanwhile, reports in Spain claim that Barcelona has not accepted Alves ultimatum and will not improve his latest renewal offer so, unless the player changes his mind, they will let him go for free.
The news is a big boost to United as Louis van Gaal keeps looking for a right-back to replace out-of-favour Rafael.
Southampton star Nathaniel Clyne is also said to be on the United shopping list, but Alves' experience and the opportunity to get him for free could play in the Brazilian's favour.
Liverpool has also been linked with his services in recent months, but it is unlikely the Barcelona star will move to a club without Champions League football.