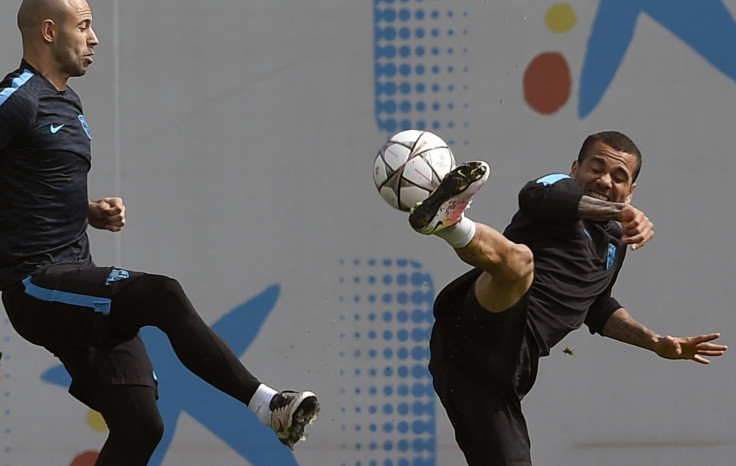 Dani Alves has encouraged Javier Mascherano to follow in his footsteps by leaving Barcelona to join Juventus. The Brazil international said he left the Nou Camp as he needed to reinvented himself, and added that there's no better team to do it with than the Serie A champions.
In May, the duo's futures at Barcelona were both called into question, after Sport reported the pair had agreed personal terms to move to Juventus.
Barcelona technical director Robert Fernandez admitted that the club were unable to stop Alves switching to Italy on a free transfer as the defender had a break clause in the two-year deal he signed the previous summer. However, the club chief warned Juventus that Mascherano would not follow the same path, as the former Liverpool star was still under contract and the Catalans were not prepared to negotiate his departure.
It seemed that Juventus agreed with that message, after the Italian side's general director, Giuseppe Marotta, declared Mascherano's signing all but impossible.
"Barcelona have closed things down for Mascherano and Valencia's request for the Portuguese [player] is pretty high. At the moment they are pretty Utopian targets," he said when asked about the chances of signing Mascherano and Valencia's much coveted Andre Gomes.
But Alves has brought the story back to life, saying he wants to be reunited with his former Barcelona teammate at Juventus.
"He [Mascherano] is one of the players who I value the most. I usually talk about football with him and it would be a great honour for me to share this adventure with him," the Brazilian said during his presentation at Juventus, as quoted by AS. "[His potential move to Juventus] doesn't depend on me, but on the clubs and Mascherano himself. It would be an honour [if he joins] because he has the right spirit to be part of Juve."
The 33-year-old also spoke further on his decision to leave Barcelona after a successful spell where he won three Champions Leagues, six La Liga titles and four Copa del Rey trophies in eight years, and what his Juventus future holds.
"Juve are a team that want to reinvent themselves, which is the same thing I want for myself. Normally Italian football is represented on the continent only by the Old Lady, so this is a unique opportunity for me to be part of this type of football," he said. "This is what I'm aiming for, to find new challenges rather than to rest on my laurels, and I'd like to thank Juve for giving me this opportunity.
Alves also expressed confidence that Juventus will keep Paul Pogba at the club ahead of next season, despite recurrent reports linking the France international with Real Madrid and Manchester United.
"Pogba is a great player. Unless there is last-minute news I think next year I will play with him, and it will be an honour. I identify myself with Pogba's lifestyle and the way he works as we both have fun in life."