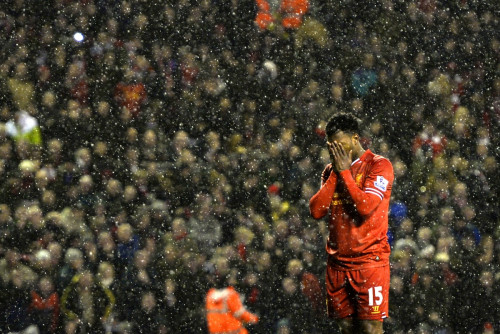 Daniel Sturridge has apologised for his behaviour against Everton after the Liverpool striker stormed off when Brendan Rodgers substituted him.
The Reds were up 4-0 against their local rivals but after Sturridge missed a chance at a hat-trick, blazing over a second-half penalty, the striker was replaced.
Sturridge began arguing with Rodgers on the touchline, eventually storming off in anger and appearing sulky and detached when he returned to the dug-out.
The hitman has since said sorry for his actions, telling BT Sport: "I apologise for my reaction. I was disappointed by missing the penalty and felt I'd let myself down as well as the fans. The hat-trick would have been the icing on the cake and it's unfortunate.
"I was disappointed with myself. It was nothing to do with the manager and I'd like to apologise for my reaction if anybody took any offence. It's not about me, it's about the boys and a great victory."
Rodgers insisted that players are well aware of their rights to ask why they've been substituted without the situation becoming as heated as Sturridge made things last night.
"As a manager you make substitutions for a variety of reasons," he said.
"I do ask players, when they come off and are unhappy, to keep it to themselves and speak to me the next day.
"Sometimes it is tactical or down to injury, but you accept coming off and sit with the rest for the remainder of the game. If you want an explanation, you can knock on my door the next morning, and you will get an honest answer.
"You don't disrespect the club or its supporters. Daniel was just disappointed because he was desperate to get on the scoresheet again."
Liverpool's emphatic win over Everton ensured their place in the top four no matter the outcome of Tottenham's match with Manchester City.