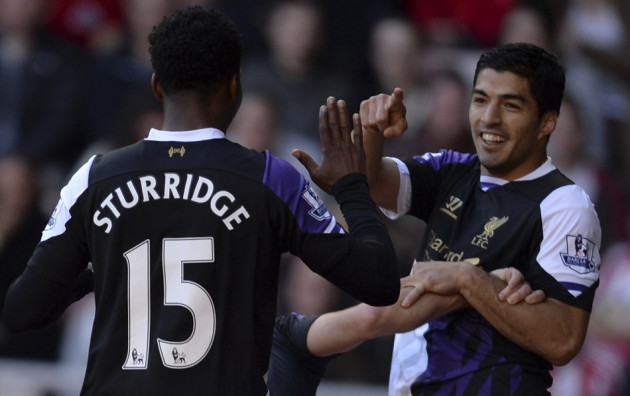 Daniel Sturridge and Luis Suarez may be on the precipice of creating Premier League history as the most formidable partnership in the division's history but Liverpool manager Brendan Rodgers is challenging the pair to continue their improvement.
Liverpool are now level on points with leaders Arsenal at the Premier League summit after Suarez and Sturridge helped sweep aside newly promoted Crystal Palace at Anfield with a goal each, to add to Steven Gerrard's penalty, in a whirlwind first-half display.
The performance not only worked to further enhance Sturridge and Suarez's status as the more feared and intimidating strike partnership in the top flight but now puts the duo on the brink of becoming statistically at least, the most potent duo in the league's 21 season history.
Only Les Ferdinand and Alan Shearer, who scored 37 goals in 26 games together for Newcastle United, now stand between Sturridge and Suarez and the title as the Premier League partnership with the finest goal-to-game ratio.
Together, Sturridge and Suarez have scored 15 goals in 12 matches, five of which have come since the latter's return from a 10-match ban stretching back since last April.
Individually there is no matching them either, since signing for Liverpool back in January; Sturridge has scored 19 goals in 24 games, while Suarez has 19 in his last 22. No player has scored more Premier League goals in 2013.
But as far as Rodgers is concerned, who was scathing in his assessment of Liverpool after a second half display which saw Dwight Gayle cut the defecit with a neat header, the pair can improve further still - a stark warning to the club's rivals.
"I think as a partnership Luis and Daniel can get even better," Rodgers said. "In training you can see the link-up play, they know instinctively where the other is going.
"I think that partnership and their goals can be a massive factor for us. We need to improve on keeping possession and dominating, but going forward we're as good as anyone.
"It's such a tight league with so little difference between the top teams that having the goals they provide can really make a difference."
The duo's form is inspiring Liverpool's early-season flirtation with a pursuit of the league title, a trophy they haven't claimed in close to a quarter of a century and naturally their supreme showings haven't gone unnoticed.
"I think they are top strikers," defender Kolo Toure who has played at Arsenal and Manchester City, boasted. "To have them is massive for us.
"They are the best pair in the league, definitely. They work well together, they respect each other and they are so strong up front.
"Suarez is a great player and that is why we wanted him to stay because he is a big striker and to have someone like him and Sturridge is important. Their job is to score goals."
Sturridge and Suarez aren't only winning games single handily and spearheading Liverpool's Champions League push, but there are relinquishing the pressure off the club's midfield which has been meanwhile been bereft of goals.
Only six different players have scored in the Premier League in seven games and Jordan Henderson, among those scorers, is enjoying watching the two tear-up the division.
"There's a lot of fluidity in the team at the moment with the formation," Henderson said. "They can sort of wander about up front and go down the channels.
"The two of them were fantastic. Their link-up play and one-twos were brilliant and they do that all the time in training. Hopefully they can keep working on that, keep improving and keep getting the goals.
"They played a few games together before Luis got the ban and since Luis has come back in they've fitted together perfectly.
"They know where each other's going to be and they've been outstanding. They can be a massive factor for us this season. As a team we just need to make sure that we shut the door at the back and we're nice and compact.
"Dominating the ball and keeping good possession of the ball is something we need to get better at. But going forward I think we are as good as anyone really."